WHO has published a surveillance protocol for SARS-CoV-2 infection among health workers. This is a technical tool that countries can use to better understand the characteristics and exposure risks of health workers infected with COVID-19. WHO Director-General Dr Tedros, in his regular media briefing, stated the Solidarity Response Fund will continue to receive donations to support WHO's activities related to COVID-19, while the WHO Foundation will help to fund all elements of WHO's work and be fully aligned with the Organization's priorities. Members of the Polio Eradication Initiative at WHO Regional Office for the Eastern Mediterranean are supporting the training of health workers to respond to COVID-19 in Sudan. WHO is using the experience of health professionals, police staff and prisoners in Italy to inform guidance on preparedness, prevention and control of COVID-19 in prisons and other places of detention. Community pharmacists are key players in the COVID-19 response and should be aware of what steps to take if they suspect or see signs of COVID-19. The WHO Regional Office for Europe has published technical guidelines on practical ways in which health systems can better respond to COVID-19.
Read today's situation report.
View the WHO's Situation Dashboard for COVID-19 here.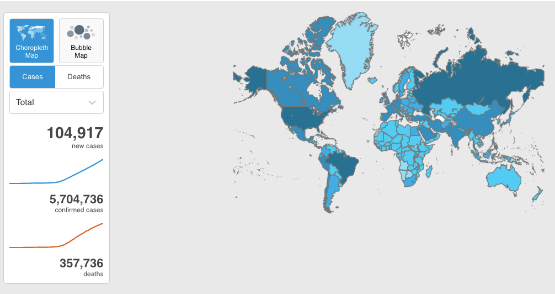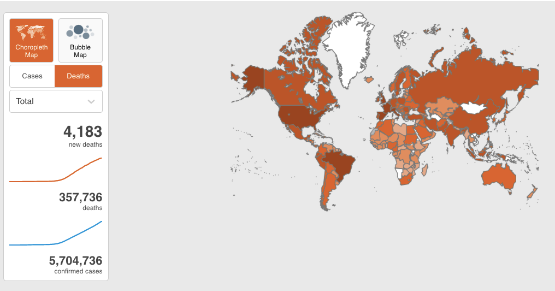 Total Cases: 1.7 million+
Deaths: 102,761
Includes confirmed and probable cases where available.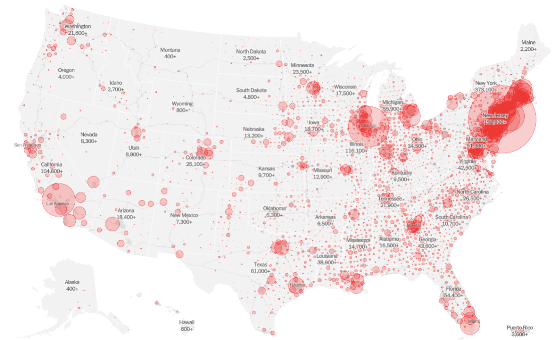 New COVID-19 FAQs on Medicare Fee-for-Service Billing. CMS released additional Frequently Asked Questions (FAQs) on recent COVID-19-related waivers to help providers, including physicians, hospitals, and rural health clinics. Find more answers to questions on:
Outpatient therapy
Telehealth and appropriate coding
Federally qualified health centers

Key Updates for Week 21, ending May 23, 2020 (Key Points)
Nationally, the percentages of laboratory specimens testing positive for SARS-CoV-2 with a molecular assay decreased compared to last week; however, there are two developments in particular worth noting:

The percent positivity increased slightly in two HHS surveillance regions (Regions 4 [the southeast] and 10 [the Pacific northwest]).
While the number of specimens from children <18 years of age tested is low (<5% of all specimens tested in public health and commercial laboratories), the percentage testing positive for SARS-CoV-2 in this age group has either trended upward or remained relatively stable in recent weeks. Other age groups have seen declines in percent positivity during the same time period.

Nationally, visits to outpatient providers and emergency departments (EDs) for illnesses with symptoms consistent with COVID-19 continued to decline or remain stable at low levels. Outpatient ILI visits are below baseline nationally and in all regions of the country.

The decrease in the percentage of people presenting for care with ILI and CLI may be due to a decline in COVID-19 illness, which could be in part a result of widespread adoption of social distancing, in addition to decreases in healthcare seeking behavior.
There has been very little influenza virus activity in recent weeks.

The overall cumulative COVID-19 associated hospitalization rate is 73.3 per 100,000, with the highest rates in people 65 years of age and older (229.7 per 100,000) followed by people 50-64 years (113.4 per 100,000). Hospitalization rates are cumulative and will increase as the COVID-19 pandemic continues.

This week's report presents additional information on racial and ethnic disparities among reported COVID-19 hospitalizations. Non-Hispanic Black and non-Hispanic American Indian/Alaska Native populations have rates approximately 4.5 times that of non-Hispanic Whites, while Hispanic/Latinos have a rate approximately 3.5 times that of non-Hispanic Whites.
Cumulative hospitalization rates for COVID-19 in adults (18-64 years) at this time are higher than cumulative end-of-season hospitalization rates for influenza over each of the past 5 influenza seasons.
For people 65 years and older, current cumulative COVID-19 hospitalization rates are within ranges of cumulative influenza hospitalization rates observed at comparable time points* during recent influenza seasons.
For children (0-17 years), cumulative COVID-19 hospitalization rates are much lower than cumulative influenza hospitalization rates at comparable time points* during recent influenza seasons.

Based on death certificate data, the percentage of deaths attributed to pneumonia, influenza or COVID-19 (PIC) decreased from 15.9% during week 20 to 9.8% during week 21 but remained above baseline. This is the fifth week during which a declining percentage of deaths due to PIC has been recorded. The percentage remains above the epidemic threshold, and is now similar to what has been observed at the peak of some influenza seasons. The percentage may change as additional death certificates for deaths during recent weeks are processed.
For more detail on this past week's activities please follow this link.

Food and Drug Administration: FDA Takes Steps to Streamline Development of Tests with At-Home Sample Collection. Today the U.S. Food and Drug Administration took steps to further support the development of COVID-19 tests for at-home self-collection by including a voluntary EUA template for at-home sample collection kits to its website. As explained in FDA's guidance, Policy for COVID-19 Tests During the Public Health Emergency (Revised), this template reflects FDA's current thinking on the data and information that developers should submit to facilitate the EUA process. In particular, this template includes recommendations for use by laboratories and commercial manufacturers who may use it to facilitate the preparation and submission of an EUA request. Currently, developers can offer a COVID-19 test for at-home self-collection under emergency use authorization (EUA), and COVID-19 tests for at-home self-collection may also be used as part of an Institutional Review Board (IRB)-approved study.
For COVID-19 diagnostic tests that use at-home specimen collection kits and are intended for use in clinical decision making, developers are generally required to submit a request for an EUA prior to distribution and use of such test. In cases where the developer has not obtained an EUA, these tests may be used as part of a research study that complies with FDA's regulatory requirements for device investigations, including applicable requirements for IRB review.
The FDA has authorized several COVID-19 tests for use with at-home collection of samples – such as from the nose or saliva – that can then be sent to a lab for processing and test reporting, and the agency is also aware of developers who are conducting IRB-approved studies of COVID-19 tests that use at-home collection of test samples. However, there are not currently any tests that are authorized to be used completely at-home. All tests that have received an EUA, including any authorizations for home collection of a specimen, can be found on the FDA's Emergency Use Authorizations page.
Read the full release here.

The U.S. Food and Drug Administration today announced the following actions taken in its ongoing response effort to the COVID-19 pandemic:
The FDA issued an Emergency Use Authorization for the Stryker Sustainability Solutions (SSS) VHP N95 Respirator Decontamination System (RDS). This product uses vapor hydrogen peroxide (VHP) to decontaminate compatible N95 respirators that are, or potentially are, contaminated with SARS-CoV-2 or other pathogenic microorganisms for multiple-user reuse by healthcare personnel to prevent exposure to pathogenic biological airborne particulates when there are insufficient supplies of face-filtering respirators (FFRs) resulting from the Coronavirus Disease 2019 (COVID-19) pandemic. N95 respirators containing cellulose-based materials are incompatible with the SSS VHP N95 RDS. This system is operated by employees of Stryker Sustainability Solutions, whose facilities are designed to allow adequate space for receiving respirators for decontamination, visually inspecting respirators for gross contamination or damage, exposing respirators to VHP, and packaging or labeling them for return to the sender so as to minimize contamination and ensure orderly handling procedures. With respirators limited to a maximum of three decontaminations, each is permanently marked to indicate the number of decontamination cycles it has undergone.
Yesterday, the FDA further supported its effort to evaluate diagnostic tests of COVID-19 by providing a SARS-CoV-2 reference panel. This panel is an independent performance validation step for diagnostic tests of SARS-CoV-2 infection that are being used for clinical, not research, purposes. The FDA panel is available to commercial and laboratory developers who are interacting with the FDA through the pre-emergency use authorization (EUA) process or whose tests have been issued an EUA. The FDA will provide the reference panel to developers at the appropriate stage in the process. There is no need for these test developers to take additional action in order to receive the reference panel.
Testing updates:

During the COVID-19 pandemic, the FDA has worked with more than 400 test developers who have already submitted, or said they will be submitting, EUA requests to the FDA for tests that detect the virus or antibodies to the virus.
To date, the FDA has authorized 113 tests under EUAs, which include 100 molecular tests, 12 antibody tests, and 1 antigen test.
Learn more here.



Help is Available – Updated May 28, 2020
This page offers tools for taxpayers, local governments and those who do business with our agency. We will update these pages regularly as the emergency situation continues to evolve. Please check back often, and remember that we're here to help businesses and taxpayers through these difficult times.
Resources for taxpayers and small business assistance includes information on tax filing relief and postponements of tax payment plans.
Local government stimulus assistance contains the latest information on stimulus funding to be made available to local governments under the recent federal CARES Act.
The agency response and changes to business operations button below contains news on how we have adapted and altered various agency functions during the COVID-19 crisis, including audit, treasury operations, warrant distribution, property tax assistance and more.
To find Texas COVID-19 test collection sites, use the online mapping tool.
A Note on Taxes
The Comptroller's office understands the tremendous strain the pandemic and its related closures have placed on businesses throughout our state. We're grateful that virtually all of our taxpayers are doing their best to remain in compliance with Texas tax requirements, and we want to ease this burden whenever possible.
To aid Texas franchise taxpayers, we are automatically extending the due date to file and pay 2020 Texas franchise tax reports to July 15, 2020.
We are also providing an extension of up to 90 days past the original due date to pay the motor vehicle tax due on purchases.
For businesses struggling to pay the full amount of sales taxes they collect from customers, we're offering short-term payment agreements and, in most instances, waivers of penalties and interest.
For more information on these accommodations, please see Resources for taxpayers and small business assistance below.

Fiscal Notes: Pandemic Drives Record Unemployment
Businesses across Texas and the nation have been forced to curtail or cease operations in the face of the coronavirus pandemic, throwing millions out of work and prompting a record increase in unemployment claims that is straining the safety net for workers. Nearly 2 million people in Texas filed for unemployment insurance benefits from March 14 through May 9, triple the number of claims filed in all of 2019.
In this issue of Fiscal Notes, we take an early look at the economic pressures now gripping the state. We also examine early impacts on employment and several other measures that can shed some light on current conditions.
"It's far too early to say how long these conditions will last — and how deep the trough will go," Texas Comptroller Glenn Hegar said. "Many economic measures are only beginning to reflect the crisis. It will be months before we can chart its full dimensions. Fortunately, our state's fiscal position is strong enough to support vital programs for the remainder of this year, and our state's "Rainy Day Fund" remains healthy. But the legislative session that begins in January 2021 will face significant and perhaps unprecedented challenges."
Getting Texans back to work will no doubt be one of the bigger challenges. A record 315,167 Texans filed initial jobless claims during the week ending April 4; a comparable week in 2019 saw about 13,000 claims. The spiraling unemployment rate has forced the Texas Workforce Commission to ramp up its web-based and telephone systems, boost staffing and extend operating hours to ensure claimants get the benefits due them.
The May issue of Fiscal Notes also considers the history of previous recessions and their effect on tax revenues. The current situation is unprecedented in the speed with which it took effect, but the past does provide some important clues for our future.
For questions about how our tax functions are continuing during the outbreak, visit our COVID-19 News page or our Virtual Field Office. Fiscal Notes is available online and can be received by subscribing via the Comptroller's website.
Fiscal Notes furthers the Comptroller's constitutional responsibility to monitor the state's economy and estimate state government revenues. It has been published since 1975, featuring in-depth analysis concerning state finances and original research by subject-matter experts in the Comptroller's office.
Read the full release here.

Texas Comptroller's Office Releases Updated Transparency Tool
Texas Comptroller Glenn Hegar today announced the release of an updated state revenue and expenditure tool on the agency's website.
"It's never been more crucial to provide Texans with the tools they need to see how their tax dollars are spent and to provide lawmakers with the information they need to provide adequate oversight," Hegar said. "My office has always been committed to giving taxpayers a user-friendly view into how government is treating their hard-earned tax dollars, and this newly refined tool is a continuation of that commitment."
This powerful new visualization tool gives users a daily look into state government finance and allows them to download state financial data for further analysis. Tabular data, charts and graphs can help taxpayers, researchers and policymakers search and explore vast amounts of government information with new perspectives, and easily compare various state agencies' expenditures.
The tool provides viewing options like these:
Revenues – Explore 25 state revenue categories, and see how funds are allocated by object code, agency and appropriation.
Expenditures – Select and compare 18 different state spending categories to see how the state allocates money to serve its citizens.
Payments to payees – Review individual payments, transaction dates, Comptroller object codes and more.
Travel payments – Break down payments by agency, individual payee, type of travel expense and more.
Economic development – Look at statewide economic development spending by fund, expenditure category and recipient.
The new tool consolidates and replaces two others: Where the Money Comes From and Where the Money Goes.


COVID-19 Case Count. The Texas Department of State Health Services (DSHS) is working closely with the Centers for Disease Control and Prevention (CDC) in responding to the new coronavirus disease 2019 (COVID‑19) that is causing an outbreak of respiratory illness worldwide. State case counts, current as of 3:45 PM can be found by accessing the DSHS COVID-19 Dashboard.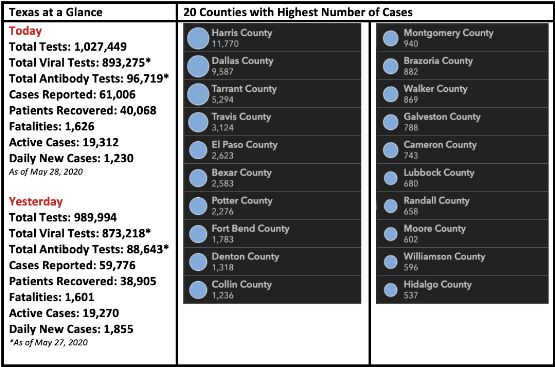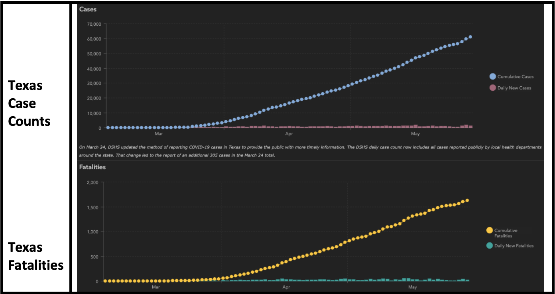 HHSC Urges Long-Term Care Facilities to Update Emergency Preparedness Plans Amid Hurricane Season, Pandemic. Texas Health and Human Services is working with long-term care providers to prepare for natural disasters ahead of a busy hurricane season forecasted by the National Oceanic and Atmospheric Administration. Texas HHS is reminding providers across the state to review their emergency preparedness and response plans and make updates if necessary.
Long-term care providers include nursing and assisted living facilities, hospices, intermediate care facilities and group homes. These facilities regularly prepare for natural disasters, including hurricanes, flooding and tornadoes, and that preparation is even more crucial as they also deal with the uncertainties of an on-going health disaster.
In addition to long-term care facilities, Texas HHS also requires hospitals, dialysis centers, and state-regulated child care operations to maintain an updated emergency plan and ensure staff are fully trained on how to execute it.
This year's emergency preparedness plans should factor in COVID-19 contingencies, including securing supplies of personal protective equipment and maintaining infection control measures and isolation protocols during evacuations. This is especially important for facilities that have suspected or confirmed cases of COVID-19.
A complete emergency preparedness and response plan includes up-to-date information about the responsibility of each staff member, evacuation destinations, the continuation of care and treatments, transportation plans and communication procedures. Texas HHS provides guidance to providers about updating their plans.
Another resource for facilities can be found at https://texasready.gov. The website includes sample plans, disaster supply checklists, and more information on preparing for hurricanes and other emergencies.
The Atlantic hurricane season, which affects the Gulf Coast of Texas, begins June 1 and ends on November 30.
Read the full release here.
More information about Disaster Assistance can be found here.

Revised: IL 2020-08 Suspension of Face-to-Face CDS Orientations Extended Through June 30. HHS revised IL 2020-08, COVID-19 Guidance for FMSAs and CDS Employers (PDF). This revised letter extends the suspension of face-to-face CDS orientations through June 30, 2020.

Revised: COVID-19 Update to Temporary Change in HCS, TxHmL Policy for Service Providers of Respite, CFC PAS/HAB. HCS and TxHmL Billing Guidelines Section 4660(1) and CFC Billing Guidelines Section 3710(a)(1) prohibit a person from receiving respite or Community First Choice Personal Attendant Services/Habilitation from someone who lives in the same home as the person.
HHSC is lifting the prohibition on service providers of respite and CFC PAS/HAB from living in the same home as the person receiving Home and Community-based Services and Texas Home Living program services. This is to provide access to needed services for people living in their own home or family's home. A person's spouse or a minor child's parent is still prohibited from being a paid service provider of these services. This temporary policy change is effective March 27 through June 30, 2020.
Program providers must complete the required background checks for all service providers. They must comply with the Texas Administrative Code, Title 40, Part 1, Subchapter D and N, HCS and TxHmL Rules, §9.177 (n) and (o), §9.579 (r) and (s), and HCS and TxHmL Billing Guidelines Section 3400 regarding service provider qualifications.
Contact the HCS or TxHmL program policy at HCSPolicy@hhsc.state.tx.us or TxHmLPolicy@hhsc.state.tx.us with your questions.

IL20-19 – COVID-19 In-Home Day Habilitation Information for Program Providers (Revised). In response to COVID-19 and to provide access to needed day habilitation services, the Texas Health and Human Services Commission is temporarily waiving requirements in Sections 4320 and 3710 of the HCS Billing Guidelines and the TxHmL Billing Guidelines.
HHS published a revision to this in  IL20-19 In-Home Day Habilitation Information for Program Providers (PDF) . This information letter was previously issued on April 30. It extends the temporary guidance through June 30, 2020 due to COVID-19.
The revised IL applies to the following program providers:
Home and Community-based Services
Texas Home Living
Local Intellectual and Developmental Disability Authorities
Financial Management Services Agencies
Read Older Reports.