This brief provides an overview of Texas Medicaid issues to be addressed in the upcoming legislative session. These include the Medicaid shortfall affecting the current biennium, a number of Medicaid Managed Care issues, Medicaid expansion to adults up to 138 of the federal poverty level (FPL), and the FY 2020-21 Legislative Appropriation Request (LAR) for Medicaid. Note that Health and Human Service agency Transformation has consolidated most of Medicaid programming into one agency – the Texas Health and Human Services Commission (HHSC).
I. Medicaid Shortfall: Current Biennium.
As indicated in HHSC's FY 20-21 LAR, the agency will run out of Medicaid funds by May of Fiscal Year 2019. Therefore, a supplemental appropriations request includes the following unmet needs for the Medicaid program for the current biennium:
Medicaid acute care services $1527.1 million
Medicaid long term care services $82.7
Medicaid other medical services $137.9
Budget drivers creating this supplemental need include the growth in caseloads (about 1 percent each year of the biennium) and cost growth (anywhere from 2.4 to 5.5 percent each year of the biennium). The Medicaid appropriation for 2018-19 did not account for cost growth for the biennium nor caseload growth for FY 2019. The agency lists its first budget priority as "to maintain current funding for client services". The emphasis on current funding and exclusion of cost and client growth from appropriation requests creates what is referred to as a structural deficit, which is typical for Medicaid in the Texas budget.
Expended, Budgeted and Requested by Texas Medicaid Eligibility Category, 2018-21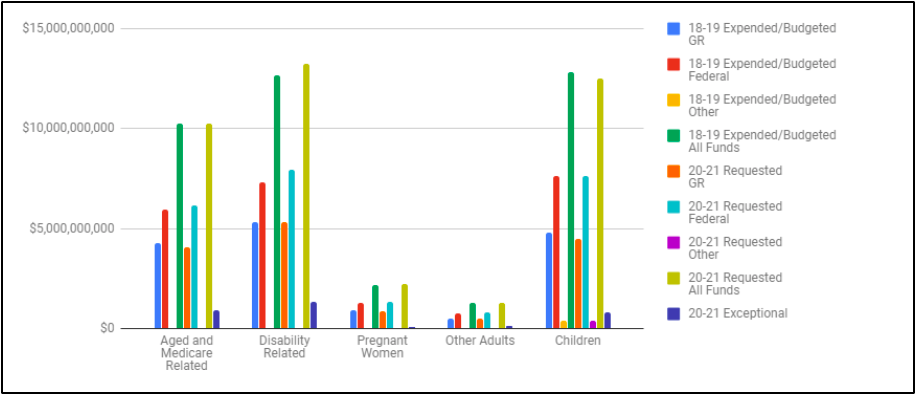 Source: HHSC 20-21 LAR
The volume of each eligibility category is illustrated in the chart below. Eligibility data is from HHSC. These two charts considered together reveal that while children make up the bulk of the eligible enrollees in Texas Medicaid, adult eligibility categories require far more state funds in comparison.
Source: HHSC Data and Statistics, 2018
II. Medicaid Managed Care.
Quality and Value-Based Measures: HHSC's Rider 61: Evaluation of Medicaid Managed Care Report includes a section discussing quality metrics of the Texas Medicaid Managed Care program. In this section of the report, Texas is compared to other states that are deemed comparable due to similarities in geographic and demographic characteristics, enrollment, and managed care development as well as to the national 50th percentile threshold using Healthcare Effectiveness Data and Information Set (HEDIS) measures. The following table summarizes Texas' rank against the national 50th percentile.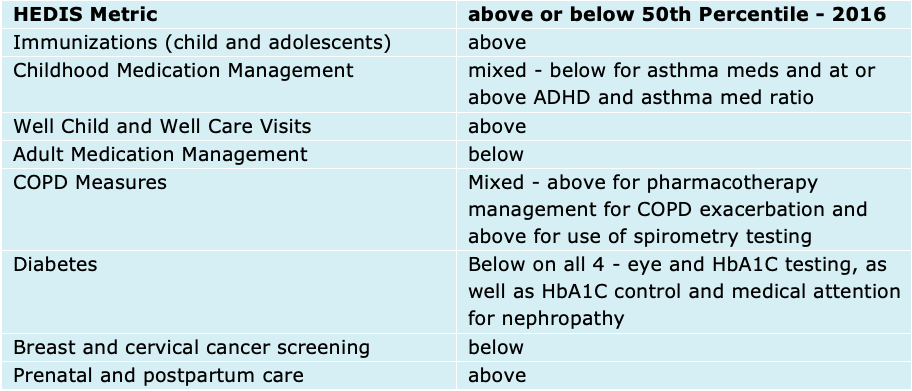 Source: Rider 61: Evaluation of Medicaid and CHIP Managed Care
Value-based measures assess three areas: the health of the population, the patient's experience of care and the cost per capita of care. Based on the HHSC reporting, including the Rider 61 Report and a March 2018 presentation to the House Appropriations Committee, HHSC is incentivizing value-based care within Texas Medicaid Managed Care through Pay for Quality (P4Q) and alternative payment model (APM) initiatives. These include incentive-based payments which are linked to various medical (prevention, chronic disease management) and dental (annual exams, cavity prevention) outcomes. Effective January 2018, HHSC requires MCO contracts to include a minimum of provider payments to be linked to quality-based APMs. This minimum proportion increases each year for four years until 50 percent or more must be value-based and 25 percent must be risk-based.
Other quality indicators include access to care. There are many facets to access in Medicaid Managed Care in Texas. The Rider 61 report reveals that access is relatively low for behavioral health and OB/GYN appointments and that MCO variability in appointment availability exists in these practice areas. This means that some MCOs are better at reducing wait times for their members for OB/GYN and behavioral health appointments.
Further, a common access criticism of Texas MCO operations is the secrecy of hearing decisions from appeals for care. Some other states make these decisions publicly available so that other members can access information regarding denials and preparation for appeals for care. Perhaps most critically, 30% of Texas physicians do not accept Medicaid. This is twice the national average. Greater physician participation in Medicaid Managed Care, particularly in rural areas of the state, is needed.
An additional access issue is that STAR Health, the Medicaid program serving foster kids, offers no choice between MCOs for parents and children whom the program serves. Critics claim these families must have at least two companies to choose from.
Other quality measures as well as metrics based on desired outcomes are described in the Health and Human Services December 2018 Annual report.
Oversight: A number of oversight issues regarding Texas Medicaid Managed Care contracts made it into the news in recent years. In response, both legislative bodies have issued interim charges focused on managed care oversight. HHSC has requested and been granted additional staff resources for managed care organization oversight. The agency is also taking steps to create a Chief Medical Officer to instill strong clinical oversight in HHSC managed care programs. Further, among the top five agency budget priorities listed in the HHSC 20-21 LAR is oversight for Medicaid Managed Care contracts.
Recommendations addressing oversight put forward in the House and Senate Interim Charge Reports and in the Rider 61 Medicaid Managed Care Evaluation Report include:
establish a provider ombudsman;
streamline administrative requirements and deliverables of MCOs;
lift printed provider directory requirements;
develop an independent review organization for MCO contracts; and
transform the Office of the Inspector General from one that oversees individual providers to one that oversees managed care systems and providers.
A more far-reaching oversight recommendation concerns the lack of standard MCO performance data. Standards for MCO performance would allow comparisons to be made regarding MCO performance across states and time frames. Also recommended is that the State require MCOs to be accredited, as do many other states.
Cost Savings: Many states have turned to Medicaid Managed Care as a way to achieve lower costs through rate negotiation with providers by MCOs. Further, states wanted the ability to budget more effectively for growing Medicaid costs by paying a capitated rate per enrollee to MCOs prior to care being delivered to patients. However, the Dallas Morning News, through an extensive investigation, has found that states – including Texas – have not been able to demonstrate savings through the implementation of Medicaid Managed Care. However, in the Rider 61 Evaluation of Managed Care Report, the agency describes a study performed by Deloitte that maintains that the implementation of managed care has saved the State somewhere between $600 million to $1.5 billion per year between 2009 and 2017. The methodology of these estimates compares actual Texas Medicaid Managed Care costs to hypothetical Medicaid Fee-for-Service (FFS) trends to estimate savings over the 2009 to 2017 period. To review the methodology, see the Rider 61 Report.
Care Coordination: Care coordination is defined as the deliberate organization of patient care activities between two or more participants, including patients, to facilitate appropriate care. Care coordination is a standard benefit of Texas Medicaid Managed Care. January 2017 LBB Staff Reports state that most Medicaid Managed Care members report receiving minimal or no service coordination from Texas Medicaid Managed Care MCOs and that member satisfaction with this benefit has been decreasing. Care coordination has been shown to increase both the efficiency of MCOs as well as quality outcomes for patients, particularly for disabled members. Publicity around care denied to disabled pediatric Medicaid Managed Care enrollees in 2018 following a Dallas Morning News series of articles on the subject has resulted in legislators holding hearings on MCO behavior, though MCOs claimed much of the coverage was erroneous.
However, documented claims of STAR Kids Managed Care deficits include care coordination, arbitrary denial of services, and lack of network specialists. HHSC's Office of the Inspector General (OIG) is currently auditing these claims.
Pharmacy Benefit Managers in Texas Medicaid Managed Care: As of March 2012, a prescription drug benefit was added into Texas Medicaid Managed Care, allowing MCOs to serve as benefit administrator to Medicaid managed care members. Previously, the Vendor Drug Program (VDP) ran the Texas Medicaid prescription drug benefit exclusively, though after 2012, the VDP continued to perform its major functions. MCOs perform prior authorization, drug utilization review, and pharmaceutical and claims processing. In Texas, MCOs are required to use pharmacy benefit managers (PBMs) to process prescription claims. Much concern has been voiced over the growing role, power and profits of PBMs in recent months. In order to control costs and provide sufficient oversight of tax dollars, many policy experts in the state recommend the creation of a non-capitated consolidated prescription drug benefit through a single pharmacy benefit administrator. This configuration will allow Texas to receive the state premium tax, which reduces the administrative costs currently paid to MCOs and provides MCOs with the opportunity to manage prescription drug processing with real-time data.
III. Medicaid Expansion to Adults up to 138% FPL.
Despite efforts to repeal the Affordable Care Act (ACA), the law remains intact and therefore its optional Medicaid expansion does so as well.[1] This expansion would provide coverage to adults up to 138% of the FPL and would do so with 90% federal Medicaid match. Enactment of this expansion could provide up to 1.2 million Texans who are currently uninsured with coverage, according to the Urban Institute report. Due to a variety of factors, including recent immigration policies and actions at the federal level and to Trump administration efforts to curb ACA marketing and enrollment efforts, uninsurance levels may be increasing in Texas. The Urban Institute recently released a report stating that the state's uninsurance rate is now at 19% – or 4.7 million Texans. This marks a slight increase from the prior year's proportion of uninsured (17%). Texas retains its place as number one among the fifty states in terms of the number of residents without health insurance.
IV. 1115 Waiver.
In December 2017, the Centers for Medicaid and Medicaid Services (CMS) approved a five-year extension of the state's 1115 Healthcare Transformation Waiver through September 30, 2022. The Delivery System Reform Incentive Payment (DSRIP) Program will be phased out gradually over the life of the renewed waiver. DSRIP payments are incentives paid to hospitals and other providers that implement programs that enhance access to care, increase the quality of care, the cost-effectiveness of care, and the health of patients and families served. HHSC will submit a DSRIP Transition Plan to CMS by October 1 of 2019. This report must describe how Texas will continue DSRIP projects beyond waiver funding.
CMS also provides through the waiver, five years of Uncompensated Care (UC) funding – though funding levels are subject to revisions in UC disbursement methodology, including charity care costs. The table below shows the UC and DSRIP amounts that the state is authorized to allocate in all funds for demonstration years 7 through 11. Demonstration years (DYs) 1-6 covered the original waiver and the 2016-17 extension. Note that amounts for UC pool in DYs 9-11 are placeholders, as these levels are subject to revision as mentioned previously.
UC And DSRIP Pool Funds by Demonstration Year (DY) in Billions, Texas, 2017-22

Source: HHSC Consolidated Budget Request, 2018
V. Other Medicaid Priorities/Concerns.
Programmatic priorities include mental health, maternal morbidity, family planning, medical care for women of childbearing age between pregnancies, and substance abuse treatment and prevention. While these are programmatic in nature, their budget impact will be considerable whether and how they are addressed in the upcoming session.
Mental Health: A report released in October of 2018 by HHSC provides an update on Rider 45 (S.B. 1, 85th Legislature) which directs the agency to measure how well MCOs serve individuals with serious mental illness (SMI). SMIs include bipolar disorder, schizophrenia, major depressive disorders, schizo-affective disorders and childhood and adolescent depression. Untreated mental illness resulted in at least $7 million in potentially preventable emergency department visits statewide in 2016, the report claims.
Substance abuse treatment and prevention: The state created a Medicaid Substance Use Disorder (SUD) benefit in 2010 under which adults and children eligible for Medicaid can receive outpatient services (assessment, ambulatory detoxification, individual and group outpatient counseling, medication-assisted treatment) and residential services (treatment and detoxification). Less than 6,000 adults received Medicaid-funded SUD treatment in FY15 at a cost of $9.7 million. On the whole, persons with substance abuse issues receiving treatment incur fewer public costs than those who remain untreated. In an effort to provide effective and inexpensive treatments, a peer support benefit will be implemented in Texas Medicaid in January 2019. Through passage of HB 1486 (85 R), peer support programming (in which persons in recovery from mental illness and/or drug abuse and alcoholism guide others into recovery) will become reimbursable under Medicaid. This is known widely as a highly effective treatment modality and is evidence-based.
Payment Concerns: Local taxpayer funds now comprise over half of all Texas Medicaid hospital reimbursement payments (rather than GR). Other concerns regarding hospital reimbursement payments pertain to the Intergovernmental Transfer (IGT) payment system, which is seen by some observers as unethical, as they are contingent on each localities' IGT capacity and therefore smaller/less affluent localities are disadvantaged.
VI. Texas Medicaid and the FY 2020-21 HHSC Legislative Appropriation Request.
The agency 2020-21 LAR includes no per client cost increases for Medicaid services. As addressed in the first section of this brief, shortfalls must be addressed in exceptional items which are not always funded. Most of the top priorities the agency lists in their 20-21 LAR pertain to Medicaid:
reduce interest lists and increase funding for the six long term services and supports Medicaid waiver programs for individuals with IDD;
provide support for individuals with intellectual or developmental disabilities (additional funding for six Medicaid waiver programs serving Texans with IDD);
maintain funding for Community Behavioral Health Services (includes Medicaid funding);
promote Health, Developmental and Independence Services (Texas' pending Healthy Texas Women application which provides women's health and family planning services to low-income Texas women) and
Improve Managed Care Oversight – (no funding request, but continued efforts to review managed care oversight processes).
The following chart depicts budget requests, as well as expended and budgeted amounts by program for 2018-2021. This information was gleaned from the 2020-21 HHSC LAR.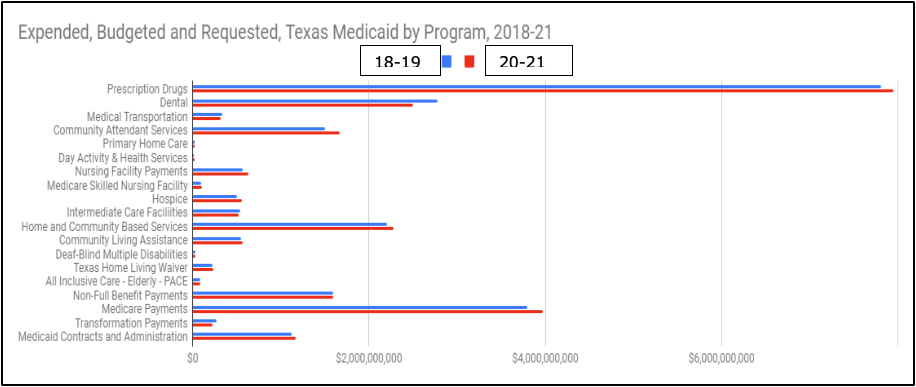 This final table includes expended, budgeted, and requested funds for 2018 through 2021, including exceptional items.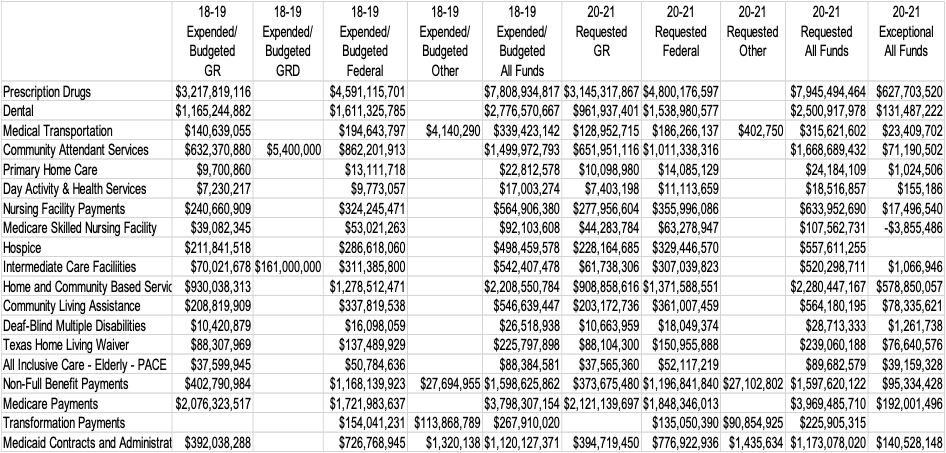 Source: HHSC 20-21 LAR
Works Cited
Center for Public Policy Priorities, "Reading the 2020-2021 Texas Budget Tea Leaves", https://forabettertexas.org/images/IT_2018_budget_instr_20_21_final.pdf
HHSC Consolidated Budget Request, https://hhs.texas.gov/sites/default/files/documents/about-hhs/budget-planning/consolidated-budget-request-2020-2021.pdf, 2018.
HHSC Data and Statistics, https://hhs.texas.gov/about-hhs/records-statistics/data-statistics, 2018.
HHSC 2020-21 Legislative Appropriations Request, https://hhs.texas.gov/sites/default/files/documents/about-hhs/budget-planning/lar/hhsc-legislative-appropriations-request-2020-2021.pdf
HHSC Legislative Appropriations Request As Presented at the 9/19/18 Joint Budget Hearing, https://hhs.texas.gov/sites/default/files/documents/laws-regulations/reports-presentations/2018/leg-presentations/joint-budget-hearing-sept-19-2018.pdf
HHSC Rider 60/61 Evaluations, 2018,
https://hhs.texas.gov/sites/default/files/documents/laws-regulations/reports-presentations/2018/sb1-rider61-evaluation-medicaid-chip-august-2018.pdf
HHSC, "Medicaid Managed Care Services for Individuals with Serious Mental Illness", Rider 45 Report, https://hhs.texas.gov/sites/default/files/documents/laws-regulations/reports-presentations/2018/rider-45-mco-svcs-mental-illness-perf-metrics.pdf, October 2018
Japsen, Bruce, "Texas' Uninsured Rates Hits 19% as GOP Snubs Medicaid Expansion", Forbes, December 12, 2018.
LBB Staff Reports, January 2017, http://www.lbb.state.tx.us/documents/publications/staff_report/3729_lbb_staff_reports.pdf
Texas House Appropriations Committee, Medicaid Managed Care (HAC Interim Charge 18) –
https://www.lbb.state.tx.us/Documents/Publications/Presentation/5414_HAC_Medicaid.pdf, June 18, 2018.
Texas Senate Human Services Committee, 2018, https://senate.texas.gov/cmtes/85/c610/c610.InterimReport2018.pdf
The Urban Institute, "The Uninsured In Texas", December 2018, https://www.episcopalhealth.org/files/2715/4447/0560/201812.10_Uninsured_in_Texas_FINAL.pdf.
***
This summary contains supplemental information from third-party sources where that information provides clarity to the issues being discussed. Not every comment or statement from the speakers in these summaries is an exact transcription. For the purpose of brevity, their statements are often paraphrased. These documents should not be viewed as a word-for-word account of every meeting or hearing, but a summary. Every effort has been made to ensure the accuracy of these summaries. The information contained in this publication is the property of Texas Insight and is considered confidential and may contain proprietary information. It is meant solely for the intended recipient. Access to this published information by anyone else is unauthorized unless Texas Insight grants permission. If you are not the intended recipient, any disclosure, copying, distribution or any action taken or omitted in reliance on this is prohibited. The views expressed in this publication are, unless otherwise stated, those of the author and not those of Texas Insight or its management.
Note that in days before the publication of this brief, a North Texas judge declared the ACA unconstitutional. The law remains in place during the appeal process. ↑