Overview
A North Texas judge ruled in December 2018 that the Affordable Care Act (ACA) is unconstitutional. This ruling is based on the premise that because the tax penalty tied to the individual mandate – the provision of the Act that requires most every individual to carry health insurance or face penalties – was struck down in May of 2018, the rest of the Act is unconstitutional. While the ruling is under appeal, the ACA remains the law of the land. Governor Abbott has stated that Texas will come up with its own healthcare law to replace the ACA and has asked lawmakers to get to work on developing options.
This brief provides a quick summary of the ACA and explores what is known currently about how Texas leadership is envisioning replacing and/or modifying the Act. Because no specific plan for healthcare coverage targeting ACA populations (working age low-income adults and individuals and families without access to public or private health insurance) has been put forward other than the bill recently filed by Rep. Garnet Coleman, which codifies the ACA into Texas law and expands Medicaid per the option within the Act[1], this exploration hinges on language in public statements by Texas officials and stakeholders in response to the recent ruling and looks back at recent federal proposals to replace the ACA. Further, this brief will consider the interim charge Lt. Governor Patrick asked Senators serving on the Business and Commerce Committee to consider which examines 1332 waivers and inter-state health insurance purchases as potential replacements and/or modifications to the ACA in Texas at the close of the 85th session.
In the evaluation of changes to and/or replacement of the ACA in Texas, it is important to remember that persons captured in the ACA population include only those who are not eligible for CHIP, Medicaid or Medicare, do not have access to private health insurance, and would otherwise not carry health insurance. If they remain uninsured, data shows that they are not as likely to receive preventive care as persons with insurance of any kind, they are more likely to delay needed care until it becomes emergent and expensive, and this increases uncompensated care costs which are a heavy burden to local property taxpayers in Texas.
Overview of ACA and its Implementation in Texas
The ACA in its original form expanded healthcare coverage in two ways: Medicaid to working-age adults (18-64) up to 138 percent of the federal poverty level (FPL) and through private markets operating through health exchanges for all other Americans. Health exchanges operate like Expedia.com or other airfare market sites, showing lowest rates and explaining tiers of coverage for health insurance. Americans between Medicaid expansion and affordable healthcare coverage (138-400% FPL) are eligible for premium subsidies when purchasing an ACA plan. These subsidies are designed to limit the out-of-pocket expense of premiums. Plans must cover certain so-called essential benefits. Most individuals are required to carry insurance and many employers are required to offer insurance to their employees. These mandates ensure that insurance carriers will be able to keep premiums reasonable by covering healthy and sick Americans. Other key provisions of the Act include guaranteed issue, pre-existing condition protections, coverage for adults up to age 26 on parental policies and lifetime limit exclusions.
Texas opted not to expand Medicaid and not to implement a Texas health exchange, choosing instead to use Healthcare.gov, the federal exchange. Still, the Act has seen robust enrollment in the state. The graph below charts ACA enrollment in Texas. Note that lower enrollment in the last two enrollment periods can be attributed to the Trump administration cuts to outreach and marketing efforts and to lower unemployment levels in the state which likely result in higher rates of employer-sponsored health insurance. If the recent ruling that the ACA is unconstitutional is upheld, over one million Texans will lose their healthcare coverage.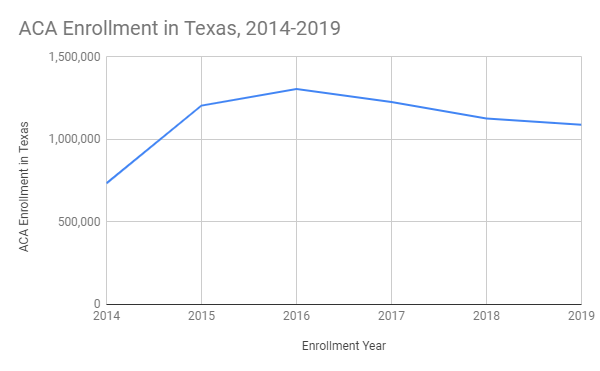 Source: Kaiser Family Foundation, Marketplace Enrollment
In 2017, low-income Texas residents paid an average of $79 per month for healthcare coverage after receipt of their premium tax credit. The table below shows the 2018 economic benefit to state enrollees regarding premium tax credits which reduce cost of premiums for low and middle-income Texans.
| | | |
| --- | --- | --- |
| 2018 Average Monthly Advanced Premium Tax Credit | Number of Texans Receiving Premium Tax Credits in 2018 | Estimated Total Annual Premium Tax Credits Paid to Texas Enrollees in 2018 |
| $477 | 851,914 | $416,712,000 |
Source: Kaiser Family Foundation, Estimated Total Premium Tax Credits
Average benchmark premiums are shown in the table below. These are middle-range (known as silver in the ACA rubric, the option between bronze and gold) plans for a 40-year old non-smoking Texan making an annual salary of $30,000. These monthly premium costs are shown alongside the US average benchmark premiums.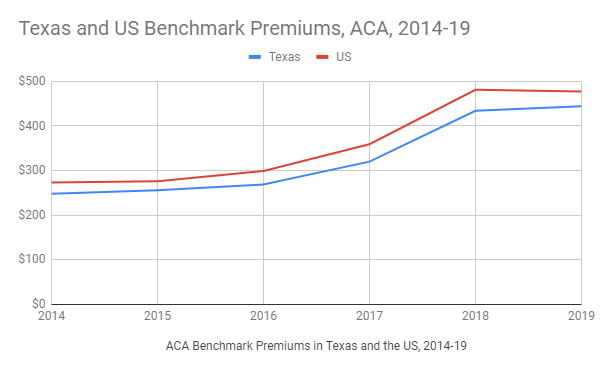 Source: Kaiser Family Foundation, Marketplace Average Benchmark Premiums
Desired Features of Texas Plan
Though no specific plan has been proffered by Texas officials regarding an alternative to the ACA, the following section of the brief explores terminology used to describe a Texas plan to replace the ACA by state officials and other stakeholders.
"Market-based"
Governor Abbott declared that he will pursue a market-based plan to replace the ACA. In fact, the ACA was designed as such – a compromise that links market forces with public subsidies – to make privately provided coverage affordable. The ACA has created new markets and expanded opportunities for private insurers, giving their products vastly increased visibility and accessibility through linkage with the health exchanges. Market disruptions that were common upon the inception of the ACA have now calmed down and prices have stabilized. Price hikes in premiums following the first few years of enactment of the ACA have been attributed to insurance carriers' initial underestimates of costs to cover ACA populations, discontinuation of assistance to insurers for high-cost coverage and other changes. These have been corrected and/or normalized and average premium prices increased by only $10 between 2018 and 2019.
"Choice of Provider"
Texas officials have implied that Texans are not able to choose their providers in ACA plans. A Kaiser Poll shows that doctor choice is not eroded through the ACA and that respondents are far more concerned about cost and pre-existing condition protections than doctor choice. Adequate networks have been a problem, but not specifically with ACA plans. Inadequate networks are a strategy that many insurers employ to control costs.
In terms of insurance carriers, there are some Texas counties that have only one carrier offering ACA plans which could pose an access barrier to residents in terms of provider choice. The table linked here shows insurance carriers operating in each county for 2019. Study of a map showing 2019 carrier participation reveals that the lack of health insurance carrier choice is not unique to Texas.
Certainly, there are policy solutions to dearth of carriers. Many companies have opted out due to uncertainty created by Trump administration policies regarding cost sharing subsidy payments and lack of support for the ACA, including the effort to undermine the individual mandate which secures the carriers' market share within the ACA.
"Lower Rates"
As illustrated in the benchmark premium graphic above, Texas premiums are below national averages. Rates are not uniform within a state but vary greatly according to region. Lower rates will likely follow greater competition (more carriers in the ACA market) and greater stability in implementation of and support for the ACA.
"Reduced Red Tape"
This charge is vague and could refer to initial problems with the Healthcare.gov website, which were rectified. However, Trump administration policy resulted in less visible information on HHS websites and closure of the enrollment site in addition to restricted enrollment periods. Texas elected not to pursue a state-only exchange, forfeiting funds to design and implement an exchange that would educate and enroll Texans on Texas-specific plans and providers. Further, use of a state-specific exchange might satisfy another desire of Texas leadership – that the ACA be replaced with a state-controlled or state-led effort.
"Guaranteed-Protection Pools"
These pools, perhaps more commonly known as high risk pools, have been in operation in Texas for years and were phased out as a result of the passage of the ACA. These pools were designed to provide coverage to chronically ill persons who, because of pre-existing condition exclusions, were unable to access insurance coverage of any kind. High risk pools were generally not seen to be an effective solution – either in terms of cost or care delivered – for chronically ill Texans. They had high premiums (twice the market rate according to the Center for Public Policy Priorities), high out-of-pocket costs, and waiting periods for people with non-continuous healthcare coverage. An analysis by Jean Hall of high risk pools also found that they are very expensive to administer. With introduction of rigorous protections for patients, perhaps these could be a way forward. Federal funding would have to be made available for these pools to be reinstated under SB 2087 (85 R), which was introduced to fund said pools, but because the bill expires in August 2019, action would have to be taken in the 86th session.
Inter-state Purchase of Insurance
In 2011, Governor Rick Perry signed legislation to allow Texas to enter into agreements with other states to ask for more control over state healthcare laws, as have many other states.  In such compacts, two or more states enter into an agreement under which one or more insurance plan is sold to residents of any state in the compact. Plans will be subject to the laws on the books in the state from which the policy originates. These compacts would mark a significant change, as federal law has protected states from interstate insurance sales competition since 1945. The ACA did not modify these protections. Interstate compacts do not block any provision of the ACA, nor are they binding without congressional approval. In fact, the ACA allows for interstate purchase of insurance under section 1333. Interestingly, no states have utilized this capability to date. Utah, one of the states to implement an interstate compact law, has repealed most of this law.
While the idea behind this proposal seems to be that increasing competition in health insurance markets will lower prices of premiums, some policy experts claim these compacts will result in insurance companies moving to states with the most permissive regulations. This could have the effect of making insurance cheaper for healthy people and more expensive for sick people. The interim charge report issued to the 86th Legislature in December of 2018 claims that interstate insurance sales proposals may be an option for Texas if stakeholders can agree on proposal parameters.
1332 Waivers
These are waivers to the ACA. Therefore, they are part of the ACA apparatus and if pursued, would be contingent on the ACA remaining the law of the land. Some statements issued by state officials seem to proffer these waivers as an alternative to the ACA rather than a modification of existing law. Note that these waivers cannot displace many of the hallmarks of the legislation, including coverage to dependents up to age 26, guaranteed issue, and community rating. What these waivers can modify are provisions of the legislation related to health plan standards, health insurance exchange, subsidies for premiums and the employer and individual mandates.
These waivers were designed and issued under the Obama administration, but new guidance released in October of 2018 by Trump administration CMS officials departs significantly from the original 1332 framework and allows for much more relaxed interpretation of what was originally in the waiver. The new guidance calls for increased access to association healthcare plans (plans that businesses band together to buy), which some argue will be more affordable because they offer fewer benefits, while others say these plans offer little or no protections to consumers. The guidance also treats the so-called guardrails in the ACA (limits to waivers including comprehensive, affordable, deficit neutral coverage to comparable numbers of covered individuals) as separate rather than conjunctive elements. In other words, only some of the coverage provided under the waiver must have guardrails intact.
The Business and Commerce Committee's interim charge report on 1332 waivers states that these waivers will require Texas to administer their own insurance exchange and perform other administrative functions such as plan and subsidy management, now performed by the Feds would be cost prohibitive, costing several hundred million dollars.
Lessons from Repeal and Replace Proposals
A quick review of proposals to repeal and replace the ACA may be instructive in anticipating what measures Texas legislators may propose during the 86th session:
Reduced subsidies for premium assistance (eligibility up to 350% rather than 400% of FPL, peg subsidy amounts to bare-bones plans)
Tie subsidies to age rather than income, thereby increasing coverage costs for young people
Allow for waivers for employers to offer coverage to employees
Allow older Americans to be charged more for health insurance
Further erosion of the Essential Health Benefits, the comprehensive coverage package offered under ACA plans
Greater reliance on Health Savings Accounts as a vehicle for affordable health insurance coverage
Replace Individual Mandate with waiting periods (shut out periods from insurance purchase) for persons with a break in coverage
Replace traditional Medicaid with either a per-capita cap or block grant, limiting growth of the program over time
Reinstate annual and lifetime limits which the ACA outlawed and
Medicaid expansion of the ACA (to working age adults up to 138% FPL) would be eliminated by 2020
Works Cited
Altman, Drew, "What New Data Tell Us About Doctor Choice", Kaiser Family Foundation, February 4, 2016, https://www.kff.org/health-reform/perspective/what-new-data-tell-us-about-doctor-choice/
The Centers for Medicaid and Medicare Services, "Trump Administration announces State Relief and Empowerment Waivers to give states the flexibility to lower premiums and increase choices for their health insurance markets", October 22, 2018.
Hall, Jean, "Realizing Health Reform's Potential: Why a National High-Risk Insurance Pool is Not a Workable Alternative to the Marketplace", 2014, https://www.commonwealthfund.org/publications/issue-briefs/2014/dec/realizing-health-reforms-potential-why-national-high-risk
Kaiser Family Foundation, Marketplace Enrollment, 2014-19, https://www.kff.org/health-reform/state-indicator/marketplace-enrollment-2014-2017/?currentTimeframe=5&selectedRows=%7B%22states%22:%7B%22texas%22:%7B%7D%7D%7D&sortModel=%7B%22colId%22:%22Location%22,%22sort%22:%22asc%22%7D, accessed 12/29/18
Kaiser Family Foundation, Estimated Total Premium Tax Credits, 2014-19, https://www.kff.org/health-reform/state-indicator/average-monthly-advance-premium-tax-credit-aptc/?currentTimeframe=0&selectedRows=%7B%22states%22:%7B%22texas%22:%7B%7D%7D%7D&sortModel=%7B%22colId%22:%22Location%22,%22sort%22:%22asc%22%7D, accessed 12/29/18
Keith, Katie, "Feds Dramatically Relax Section 1332 Guardrails", Health Affairs Blog, October 23, 2018, https://www.healthaffairs.org/do/10.1377/hblog20181023.512033/full/
Levey, Noam, et.al., "A Side by Side Comparison of Obamacare and the GOP Replacement Plans", Los Angeles Times, July 13, 2017, https://www.latimes.com/projects/la-na-pol-obamacare-repeal/)
McGaughy, Lauren, "Gov. Abbott Says Texas Will Prioritize Obamacare Replacement as Health Care Lawsuit Continues", Dallas Morning News, December 17, 2018, https://www.dallasnews.com/news/texas-politics/2018/12/17/gov-abbott-says-texas-will-make-passing-state-health-care-law-priority-obamacare-lawsuit-continues
National Conference on State Legislatures, "Allowing Purchases of Out-of-State Health Insurance", August 2018, http://www.ncsl.org/research/health/out-of-state-health-insurance-purchases.aspx
Pew Charitable Trusts, "Forgoing Medicaid Expansion: Not Expanding Medicaid Can Cost Local Taxpayers", June 24, 2015, https://www.pewtrusts.org/en/research-and-analysis/blogs/stateline/2015/6/24/not-expanding-medicaid-can-cost-local-taxpayers
Platoff, Emma, "By Gutting ObamaCare, Judge Reed O'connor Handed Texas a Win", Texas Tribune, December 19, 2018.
Pogue, Stacy, "Remembering the Bad Old Days of High Risk Pools", May 2017, http://bettertexasblog.org/2017/05/remembering-bad-old-days-high-risk-pools/.
Reigstad, Leif, "Texas Judge Declared ObamaCare Unconstitutional", Texas Monthly, December 17, 2018, https://www.texasmonthly.com/news/texas-judge-declared-obamacare-unconstitutional-heres-what-you-need-to-know/
Scott, Dylan, "The GOP's Turn to Answer the Question: Can I Keep My Doctor?" STAT, March 8, 2017, https://www.statnews.com/2017/03/08/can-i-keep-my-doctor/
Senate Committee on Commerce and Business, Interim Charge Report, 2018, https://senate.texas.gov/cmtes/85/c510/c510.InterimReport2018.pdf
***
This summary contains supplemental information from third-party sources where that information provides clarity to the issues being discussed. Not every comment or statement from the speakers in these summaries is an exact transcription. For the purpose of brevity, their statements are often paraphrased. These documents should not be viewed as a word-for-word account of every meeting or hearing, but a summary. Every effort has been made to ensure the accuracy of these summaries. The information contained in this publication is the property of Texas Insight and is considered confidential and may contain proprietary information. It is meant solely for the intended recipient. Access to this published information by anyone else is unauthorized unless Texas Insight grants permission. If you are not the intended recipient, any disclosure, copying, distribution or any action taken or omitted in reliance on this is prohibited. The views expressed in this publication are, unless otherwise stated, those of the author and not those of Texas Insight or its management.
This includes working age adults (18-64) up to 138 percent of the Federal Poverty Level. ↑