THMP Update – Rachel Sanor, Manager, presented the HIV Medication Fact Sheet.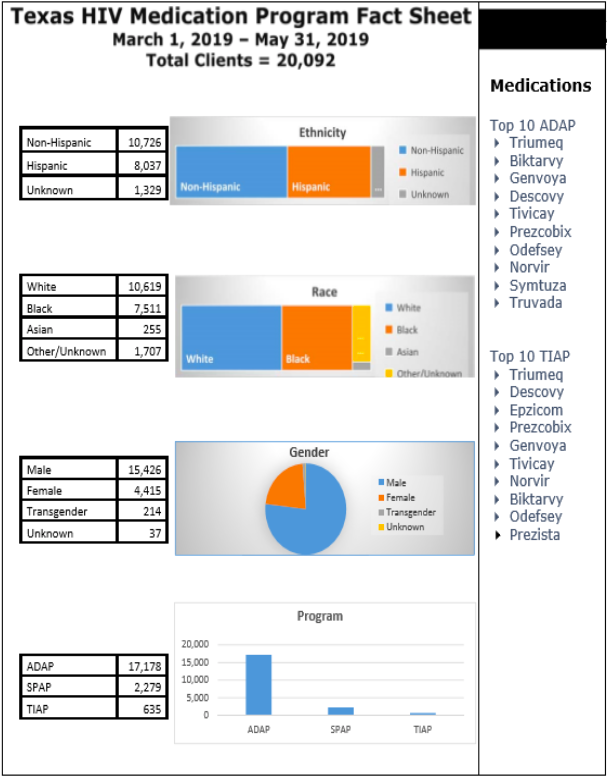 There were not a lot of changes from previous reports. The top used medications are also presented.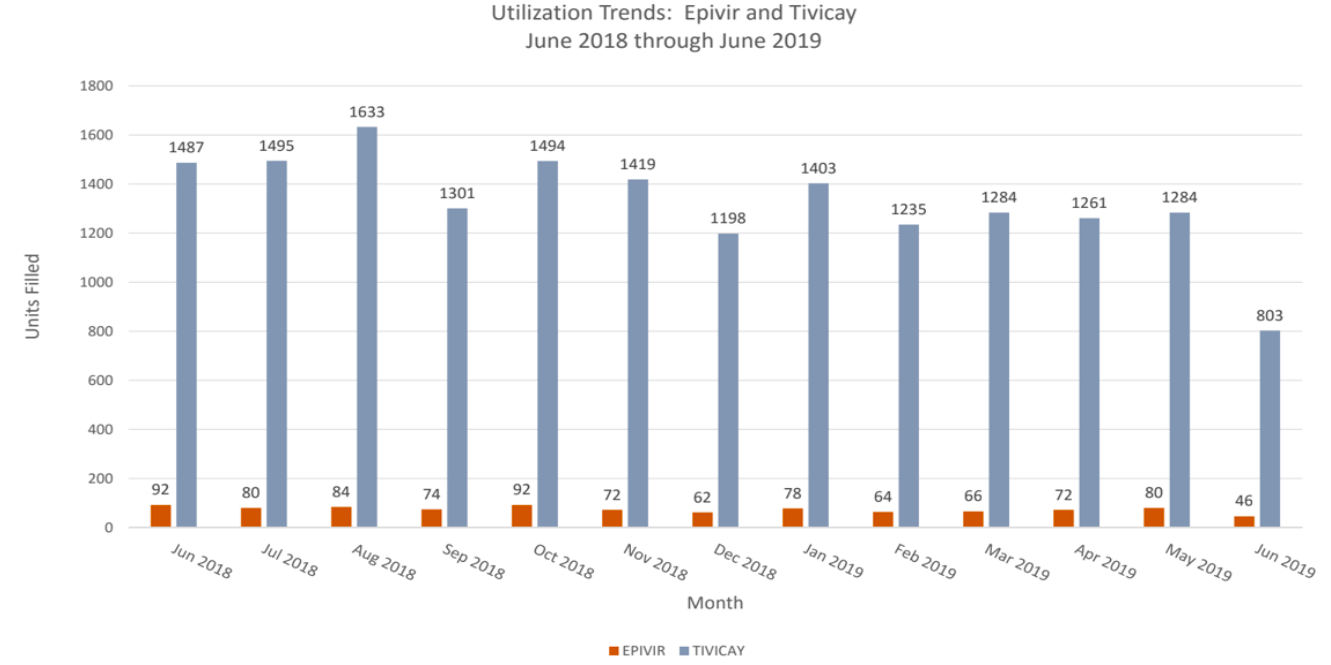 Presentation on Dovato – Viiv Healthcare, Medical Science Liaison.
Dovato is the second complete two drug regimen for the treatment of HIV‐1. Dovato is a combination of dolutegravir 50mg (integrase strand transfer inhibitor) and lamivudine 300mg (nucleoside analogue reverse transcriptase inhibitor) indicated for adults with no antiretroviral treatment history and with no known substitutions associated with resistance to the individual components.
Dovato's efficacy and safety is supported by the data from 2 randomized, double‐blind, controlled trials GEMINI 1&2. They are identical 148-week, Phase 3, multicenter, parallel group, non‐inferiority trials.
These trials included a total of 1,433 HIV‐1 infected adults with no previous antiretroviral treatment history. The subjects enrolled had a baseline HIV‐1 RNA viral load of 1,000 to </=500,000 copies/mL at screening and without evidence of major resistance‐associated mutations or evidence of HBV infection. Subjects were randomized to either receive Dovato once daily OR Truvada plus Tivicay once daily. The primary endpoint was the proportion of patients with plasma HIV‐1 viral load undetectable <50 copies/mL at week 48.
At baseline, the median age of subjects was 33 years, 15% female, 68% white, 9% CDC stage 3 AIDS, 20% viral load >100k copies/mL, median CD4+ cell count 432 cells/mm. These characteristics similar between both arms.
Looking at the pooled virologic outcomes, at week 48, 91% of subjects on the Dovato arm were undetectable compared to 93% on the Truvada + Tivicay arm. A treatment difference of ‐1.7% confirming non‐inferiority. Less than 1% of subjects on both arms discontinued due to lack of efficacy. Additionally, no subjects had any detectable treatment‐emergent substitutions associated with resistance to dolutegravir or NRTIs. Looking at various baseline subgroups of viral load, CD4+, gender, race, ethnicity, or age both arms performed similar.
The most common adverse reaction (all grades) observed in >/=2% were headache, diarrhea, nausea, insomnia, and fatigue.
In terms of contraindications to note: there are two.
Prior hypersensitivity reaction to dolutegravir or lamivudine
Coadministration with dofetilide
Dovato is one tablet to be taken once daily with or without food. Prior to initiation, patients should be tested for HBV and pregnancy.
There is a comprehensive list of drug‐drug interactions in the package insert but 2 important ones to note are when given concomitantly with carbamazepine or rifampin an additional dose of Tivicay 50mg should be given dosed 12 hours apart. Additionally, Dovato is not recommended for patients with a CrCl <50mL/min.
Dovato is powered by dolutegravir at the core which is allowing patients to be treated with less antiretroviral exposure. Clinical studies demonstrate that Dovato, 2 drugs, is non inferior to a conventional 3 drug regimen and an option for treating patients living with HIV‐1.
***
The information contained in this publication is the property of Texas Insight. The views expressed in this publication are, unless otherwise stated, those of the author and not those of Texas Insight or its management.