WARNING: May not be suitable for young audiences. Yes, it is bad… but not as bad as it could have been.
At the beginning of each regular session of the Texas Legislature, the Texas Constitution requires the Comptroller of Public Accounts to submit their opinion on the state's financial condition and estimating the revenue that can be expected to guide appropriations for the next two-year budget period. This Biennial Revenue Estimate (BRE) forms the basis of each successive state budget during this time period. Legislators must ensure that total appropriations do not exceed the amount predicted to be available in the BRE. At or near the close of the session, the Comptroller will revise the estimate based on more current information and that revision will form the basis for "certification" of the Appropriations Bill where the Comptroller agrees that there is enough revenue anticipated to address the revenue demands established through appropriations made by that legislature. Due to the economic effects of the COVID-19 pandemic, lawmakers can expect a negative beginning balance as they begin writing the 2022-23 state budget.
Texas Comptroller Glenn Hegar released the Biennial Revenue Estimate (BRE) Monday showing the state is projected to have $112.5 billion in revenue (all funds) available for general-purpose spending during the 2022-23 biennium.
The revenue estimate represents a 0.4 percent decrease from funds available for the 2020-21 biennium. This decline is a direct result of the COVID-19 pandemic, which caused revenue collections to fall well short of what was expected when the Legislature approved the 2020-21 budget; the ending 2020-21 balance will be close to a negative $1 billion.
The estimate is based on the most recent and precise information available. It represents the Comptroller's effort to provide lawmakers with the most accurate forecast possible as they craft the budget for the 2022-23 biennium and the supplemental spending bill to address the remainder of the current biennium.
The forecast, however, remains clouded with uncertainty. The ultimate path of the pandemic and the behavior of consumers and businesses during a resurgence are difficult to gauge. It's also unclear how they'll respond once the pandemic is fully under control. As a result, there is a wide range of possible outcomes for state revenue through the end of fiscal 2023, with the possibility of revenue falling short of this forecast but also a chance revenue could exceed it, perhaps substantially.
Surges in COVID-19 cases and hospitalizations have been a drag on economic growth and recovery. Texas isn't expected to experience the kind of economic contraction that occurred in spring 2020 again, but in the near term we could see a reversal of recent positive economic trends. The prospect of effective and widely administered vaccines could prompt a return to pre-pandemic levels of economic activity in the next year.
The Legislature will again face some difficult choices to balance the budget. While savings from agency spending cuts and federal funding could help erase the projected shortfall for this biennium, a substantial supplemental appropriations bill could increase it, thereby reducing revenue available for the next biennium.
The $112.5 billion available for general-purpose spending includes 2022-23 collections of $119.6 billion in General Revenue-Related (GR-R) funds. These collections will be offset by an expected 2020-21 ending GR-R balance of negative $946 million. In addition, $5.8 billion must be reserved from oil and natural gas taxes for 2022-23 transfers to the Economic Stabilization Fund (ESF) and the State Highway Fund (SHF); another $271 million must be set aside to cover a shortfall in the state's original prepaid college tuition plan, the Texas Tomorrow Fund.
The projected shortfall does not account for any GR-R expenditure reductions resulting from the state leadership's instructions for most state agencies to reduce spending by 5 percent of their 2020-21 GR-R appropriations. Nor does it incorporate the effects of substituting federal funds provided as pandemic-related assistance for some GR-R pandemic-related expenditures. Official action on either of those items could eliminate the projected shortfall, which must be made whole by the 87th Legislature.
Sales tax collections make up the state's largest source (62 percent) of GR-R revenues in 2022-23. The BRE projects sales tax revenues will increase by 5.1 percent from the 2020-21 biennium, reaching $64.1 billion for the 2022-23 biennium after $5 billion is allocated to the SHF.
Texas' economically vital oil and gas industry is tied to volatile energy prices and was hammered in 2020 by forces including the pandemic. The state's rig count fell this summer to levels not seen in more than 50 years. The collapse affected not only severance tax revenue but sales tax and other state revenue tied to industry activity, hurting economic and revenue growth.
Other significant sources of GR-R revenues in 2022-23 include:

motor vehicle-related taxes, including sales, rental and manufactured housing taxes, which are expected to reach $10.1 billion, up 5.1 percent from 2020-21;
oil production tax collections, which are projected to generate $6.5 billion, up 10.1 percent from 2020-21;
natural gas tax collections, which are expected to raise $3.5 billion, up 66.9 percent from 2020-21; and
franchise tax collections, which are projected to generate $6.3 billion, up 5.1 percent from 2020-21; for all funds, franchise tax revenue is estimated to generate $9 billion, up 4.4 percent from 2020-21.

The ESF (the state's "Rainy Day Fund") currently contains about $10.5 billion, not counting currently outstanding spending authority. Absent any legislative appropriations, the ESF balance is expected to total $11.6 billion at the end of 2022-23.
State revenue from all sources and for all purposes is expected to reach $270.5 billion for the 2022-23 biennium, including about $98.2 billion in federal receipts, along with other income and revenues dedicated for specific purposes and therefore unavailable for general-purpose spending. There are several issues that must be followed including the spread of the COVID-19 virus and the possibility of renewed reduction in customer-facing economic activity. Monitoring the recovery in energy markets as further shocks on either the demand or supply side is critical as this could threaten recent positive developments for prices and production.
The Comptroller reported that household savings have increased during the pandemic, while credit card debt has declined; this could support increased consumer spending once people feel safe to return to pre-pandemic activities. So, while there are numerous potential concerns, my economic forecast assumes a further moderate decline in economic activity in fiscal 2021, followed by a return to growth in the 2022-23 biennium at rates somewhat higher than those experienced during the last decade.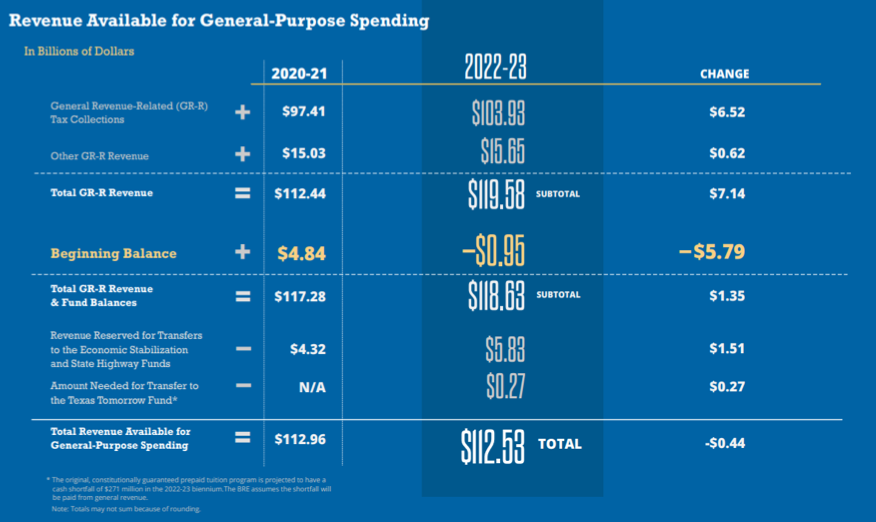 Follow this link to see the graphics from the Comptroller's presentation.
Health and Human Services Budget Shortfall for FY20-21. While it is too early to panic and many variables are still being evaluated, as with most biennia, HHSC will face a shortfall in two programs: Medicaid Client Services and CHIP.
The data that was reported in the financial report takes into account a more favorable FMAP realized by the state for COVID-19 related activities. Texas Insight will not be speculating on the shortfall until more information is made available from the agencies and the Legislative Budget Board.
The Method of finance used in the upcoming calculations will be based upon currently known federal cost allocation factors and methodologies. These could change as the legislative session progresses. HHSC reports that it will be updating the method of finance as required by the federal government, which could result in future Method of Finance adjustments. Because of the entitlement nature of the two programs, any shortfall experienced will have to be addressed by the Legislature through an emergency appropriation. Please keep in mind that on the revenue side, this present fiscal year is already facing a $1 billion deficit. The HHSC shortfall will be in addition to that. We will report more on the shortfall as information becomes available.
***
This summary contains supplemental information from third-party sources where that information provides clarity to the issues being discussed. Not every comment or statement from the speakers in these summaries is an exact transcription. For the purpose of brevity, their statements are often paraphrased. These documents should not be viewed as a word-for-word account of every meeting or hearing, but a summary. Every effort has been made to ensure the accuracy of these summaries. The information contained in this publication is the property of Texas Insight and is considered confidential and may contain proprietary information. It is meant solely for the intended recipient. Access to this published information by anyone else is unauthorized unless Texas Insight grants permission. If you are not the intended recipient, any disclosure, copying, distribution or any action taken or omitted in reliance on this is prohibited. The views expressed in this publication are, unless otherwise stated, those of the author and not those of Texas Insight or its management.