Over the past weeks, WHO has been adding functionality to its COVID-19 global dashboard, to display all of the latest data that have been published in the daily situation report; these data are now fully available on the dashboard. Important narrative updates are being merged into the WHO COVID-19 "Rolling updates" pages. Starting next Monday, 17 August, the daily situation report will be replaced by a "COVID-19 Weekly Epidemiological Update" which will focus on analysis and interpretation of the evolving epidemiologic situation. Operational updates will continue to be shared through the "Weekly Operational Update on COVID-19".
Today's 'Subject in Focus' discusses the COVID-19 Preparedness and Response Progress Report which evaluates where we are in the outbreak and the considerable achievements made over the past 6 months. A global epidemiological overview of COVID-19 for the week ending 9 August, is also presented.
"Now it's time to work together. Now it's time to fight the virus", said Dr Tedros in a media briefing on Thursday last week.
Dr Mike Ryan, Executive Director, WHO Health Emergencies Programme also said that "…we have to create a new partnership. A new deal between government services and community action. Communities' individuals have to be empowered, educated. They have to want to participate."
WHO has published guidance on the public health surveillance of coronavirus disease 2019 (COVID-19) in humans caused by infection with severe acute respiratory syndrome coronavirus 2 (SARS-CoV-2). This document combines and supersedes the Global surveillance guidance for COVID-19 caused by human infection with COVID-19 virus: Interim guidance, and Surveillance strategies for COVID-19 human infection: Interim Guidance 10 May 2020.
Read today's situation report.
Read Sunday's situation report.
Read Saturday's situation report.
View the WHO's Situation Dashboard for COVID-19 here.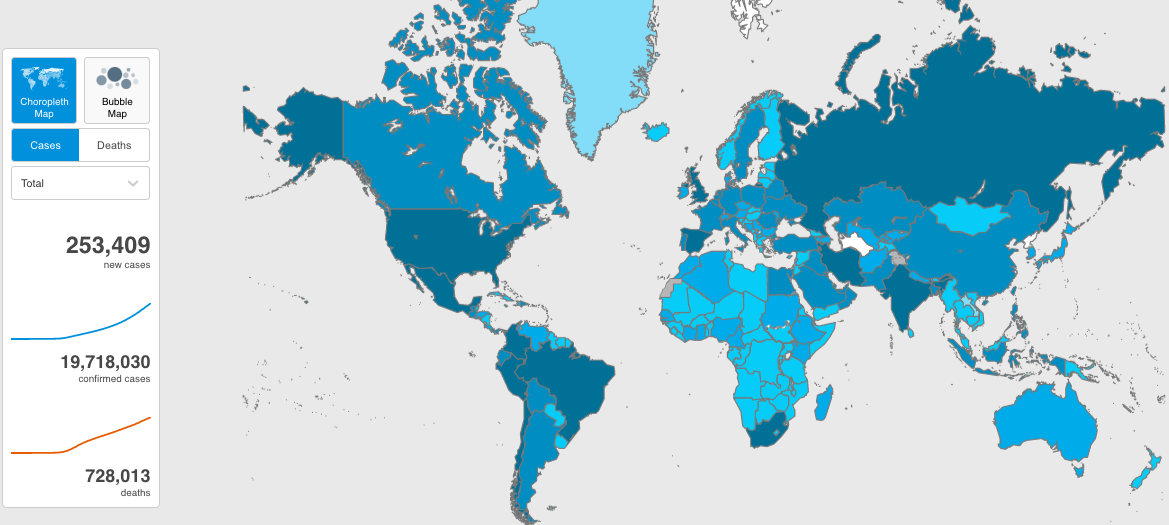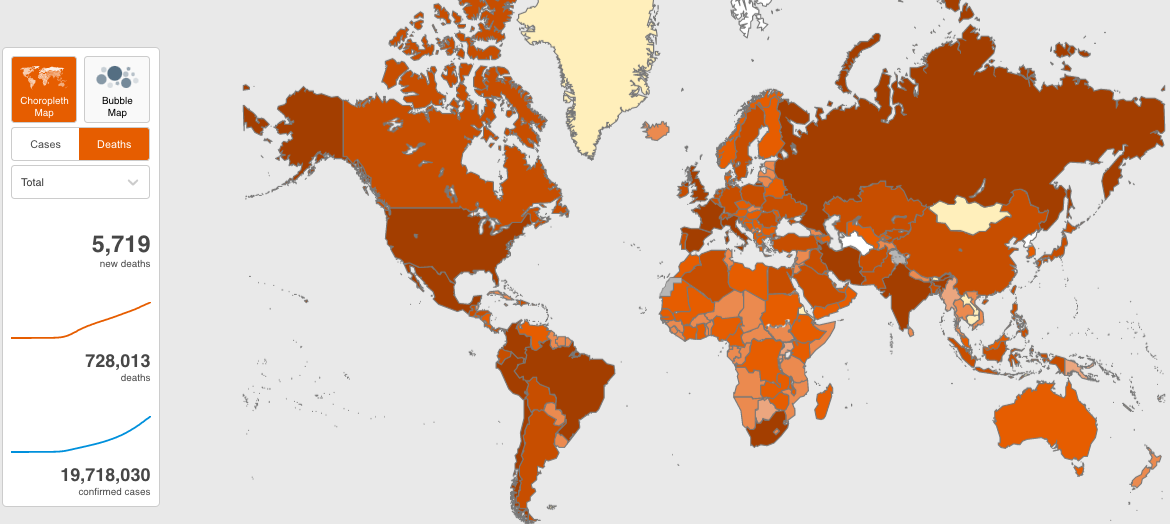 Total Cases: 5.0 million+
Deaths: 162,959
Includes confirmed and probable cases where available.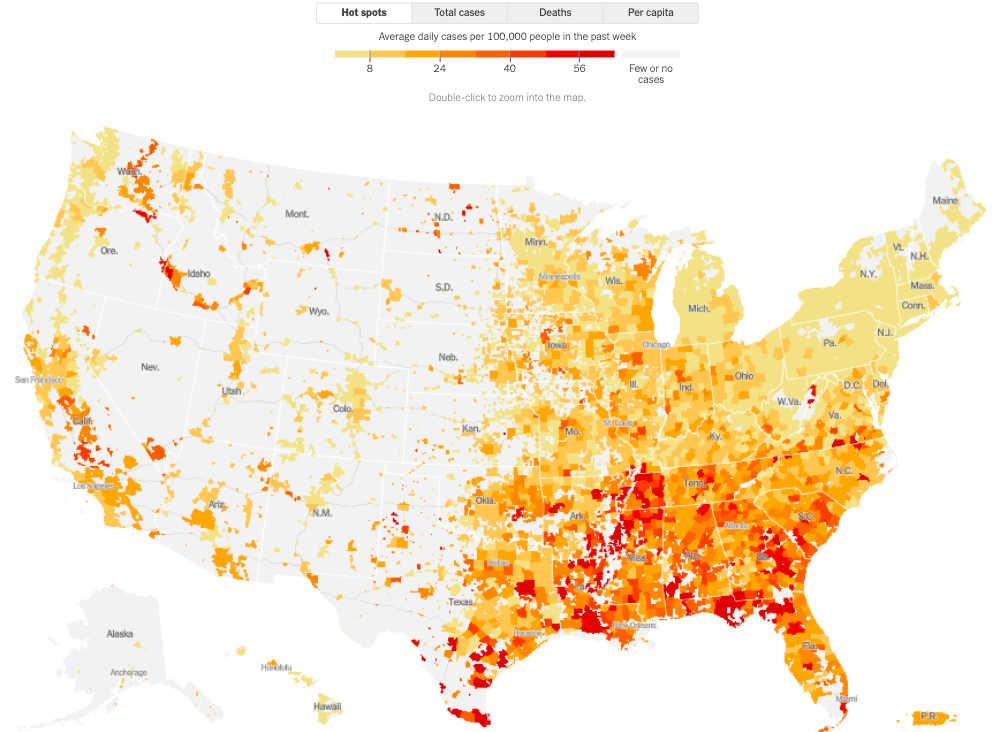 The federal budget deficit in July 2020 was $61 billion, CBO estimates, compared with a deficit of $120 billion in the same month last year. That decrease, following three months of substantially larger deficits, occurred because payment deadlines for individual and corporate income taxes were delayed from April and June to July, so tax receipts were unusually large this July. All told, for the period from April through July, revenues were down 10 percent from last year's amounts.
A shift in the timing of certain payments had the opposite effect—increasing the deficit in July. Federal payments totaling $57 billion were made in July rather than August because August 1 fell on a weekend; no such shift occurred in July 2019. Even without those timing shifts, federal spending was much higher this July than it was last year. Outlays for unemployment compensation contributed significantly to the deficit this July, accounting for more than half of the increase in government spending (excluding the timing shifts).
The cumulative federal budget deficit for the first 10 months of fiscal year 2020 reached $2.8 trillion, CBO estimates, $1.9 trillion more than the deficit recorded during the same period last year. Revenues were 1 percent lower and outlays were 51 percent higher through July 2020 than during the same 10-month period in fiscal year 2019.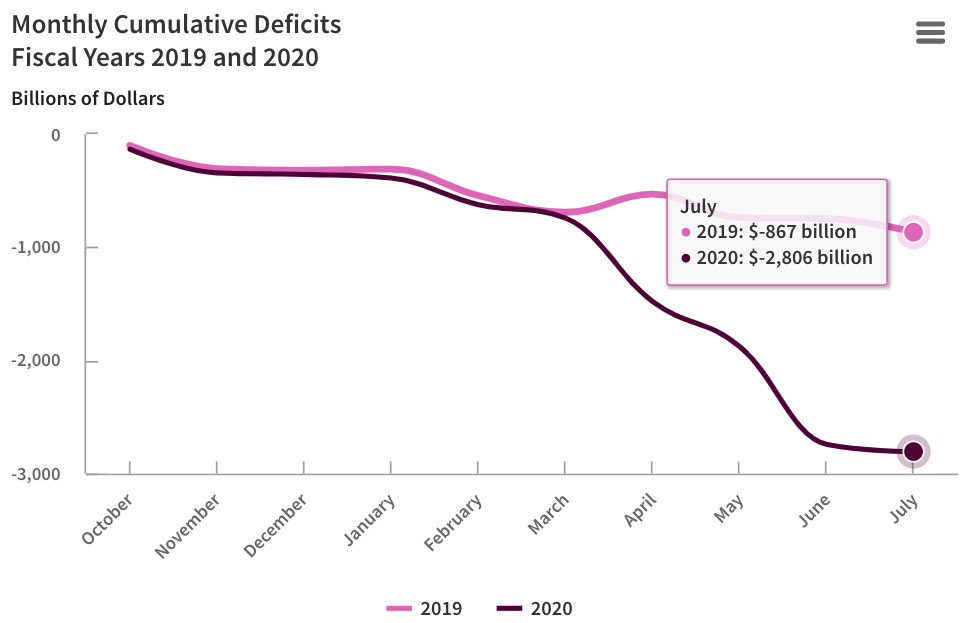 The estimated changes in July relative to last year were as follows:
Individual income and payroll (social insurance) taxes more than doubled, together increasing by $248 billion. Most of that rise is attributable to an increase in nonwithheld individual income taxes resulting from the delayed payment deadlines.

Nonwithheld taxes totaled $292 billion, compared with $12 billion last July, an increase of $280 billion. Most of those payments would normally have been received from April through June.
Amounts withheld decreased by $14 billion (or 7 percent), reflecting a decline in wages and the effects of recently enacted legislation.
Individual income tax refunds, which reduce net receipts of individual income taxes, were about five times what they were last July (an increase of $17 billion). That increase reflects refunds that would have been paid in April if the Administration had not delayed the tax-filing deadline.

Corporate income taxes, on net, totaled $68 billion, compared with just $7 billion in the same month last year, an increase of $61 billion, because of the delay in deadlines from April and June to July.
Receipts from other sources increased by $2 billion (or 8 percent). That change is primarily explained by a $3 billion (or 59 percent) increase in remittances from the Federal Reserve, reflecting earnings on more assets held by the central bank. Estate and gift taxes increased by $1 billion, but excise taxes and customs duties declined by $1 billion each.
Read the full release.

HHS Provider Relief Fund Phase 2 General Distribution Now Accepting Additional Applicants. On July 31, 2020, HHS announced that certain Medicare providers would be given another opportunity to receive additional Provider Relief Fund payments. These are providers who previously missed the June 3, 2020 deadline to apply for additional funding equal to 2 percent of their total patient care revenue from the $20 billion portion of the $50 billion Phase 1 General Distribution, including many Medicaid, Children's Health Insurance Program (CHIP), and dental providers with low Medicare revenues. In addition, certain providers who experienced a change in ownership, making them previously ineligible for Phase 1 funding, will also be given an opportunity to apply for financial relief.
Starting today, these eligible providers may now submit their application for possible funds by August 28, 2020. This deadline aligns with the extended deadline for other eligible Phase 2 providers, such as Medicaid, Medicaid managed care, CHIP, and dental providers.
Latest Eligible Providers for Phase 2 General Distribution Funding
Providers who were ineligible for the Phase 1 General Distribution because:

They underwent a change in ownership in calendar year 2019 or 2020 under Medicare Part A; and
Did not have Medicare Fee-For-Service revenue in 2019.

Providers who received a payment under Phase 1 General Distribution but:

Missed the June 3 deadline to submit revenue information – including many Medicaid, CHIP, and dental providers with low Medicare revenues that assumed they were ineligible for additional distribution targeted at Medicare providers or had planned to apply for a Medicaid and CHIP specific distribution; or
Did not receive Phase 1 General Distribution payments totaling approximately 2 percent of their annual patient revenue.

Providers who previously received Phase 1 General Distribution payment(s), but rejected and returned the funds and are now interested in reapplying.
Again, all eligible providers will only receive funding of up to 2 percent of their reported total revenue from patient care. Therefore, for providers who have already received a Phase 1 General Distribution payment from HHS, the previous amount received and kept will be taken into account when determining the eligible amount for Phase 2 General Distribution payment. All payment recipients must accept HHS's terms and conditions and may be subject to auditing to ensure the data provided to HHS for payment calculation are accurate.
HHS has been hosting a series of informational webinars to address questions and support providers through the application process. The next provider and provider organization webinar will be held on Thursday, August 13, 2020.
For the latest information on the Provider Relief Fund Program, visit: hhs.gov/providerrelief.

HHS Releases July – December COVID-19 State Testing Plans. Today, the U.S. Department of Health and Human Services (HHS) publicly posted the July through December COVID-19 Testing Plans from all states, territories, and localities on HHS.gov. The State Testing Plans serve as a roadmap developed in partnership with the Federal government for each jurisdiction's monthly 2020 testing strategy for SARS-CoV-2, the virus that causes COVID-19. The plans include details on responding to surges in cases and reaching vulnerable populations including minorities, immunocompromised individuals and older adults.
Access each state's COVID-19 testing plans.
Each state plan is required to include details of critical parameters for state testing strategies, including target numbers of tests per month, as outlined in the Centers for Disease Control and Prevention's (CDC's) Epidemiology and Laboratory Capacity for Prevention and Control of Emerging Infectious Diseases (ELC) guidance document – PDF.
Read the full release.
Texas
Population: 29,000,000
Number of Individuals Planned to Be Tested by Month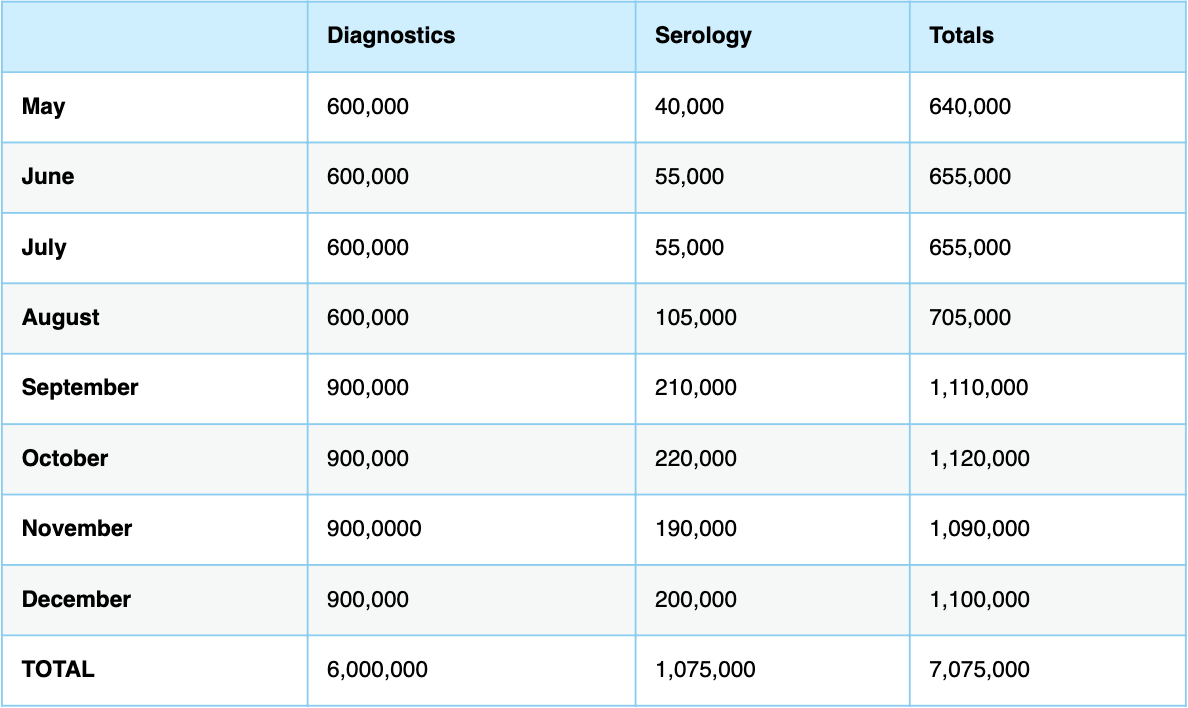 Clinical trials of monoclonal antibodies to prevent COVID-19 now enrolling. Two Phase 3, randomized, placebo-controlled, double-blind clinical trials testing whether experimental monoclonal antibodies (mAbs) can prevent infection by SARS-CoV-2 coronavirus are now enrolling healthy adults at clinical trial sites in the United States. Many of the trial sites and study investigators are part of the COVID-19 Prevention Network (CoVPN), recently established by the National Institute of Allergy and Infectious Diseases (NIAID), one of the National Institutes of Health. SARS-CoV-2 is the virus that causes coronavirus disease 2019 (COVID-19). The trials are enrolling adults who are at risk of infection due to close contact at work or home to persons with SARS-CoV-2 infection.
Monoclonal antibodies are laboratory-made versions of proteins naturally produced by the immune system in response to invading viruses or other pathogens. Neutralizing antibodies, whether natural or monoclonal, can bind directly to portions of viruses that they use to attach to and enter cells, preventing them from initiating the infection cycle. Monoclonal antibodies may provide short-term protection from SARS-CoV-2 and could serve as important components of the COVID-19 pandemic response until vaccines become available.
Read the full release and learn more.

HUD Awards $472 Million to Public Housing Authorities to Help Keep Residents Housed. The U.S. Department of Housing and Urban Development (HUD) Secretary Ben Carson today announced $472 million in CARES Act funding to help low income families during the coronavirus pandemic. This funding can be used by Public Housing Authorities to help families assisted by Housing Choice Vouchers (HCV) and Mainstream vouchers prevent, prepare for and respond to the coronavirus. The funding, made available by the CARES Act legislation President Trump signed into law on March 27, 2020, will be awarded to Public Housing Authorities across the Nation. See the local impact of the housing assistance announced today.
The eligible coronavirus-related activities include, but are not limited to, the following:
Procuring cleaning supplies and/or services to maintain safe and sanitary HCV units, including common areas of PHA-owned Project Based Voucher (PBV) projects.
Relocation of participating families to health units or other designated units for testing, hospitalization, or quarantine, or transportation to these locations to limit the exposure that could be caused by using mass transportation.
Additional costs to supportive services vendors incurred due to coronavirus.
Costs to retain or increase owner participation in the HCV Program, such as incentive or retention costs (e.g. the PHA offers owner an incentive payment to participate in recognition of added difficulties of making units available for HCV families to rent while stay-at-home orders or social distancing practices are in effect).
Costs for providing childcare for the children of PHA staff that would not have otherwise been incurred (e.g. children are at home due to school closings, PHA staff are working outside of regular work schedules, etc).
For more information on HUD's response to the novel coronavirus pandemic and the actions the Department has taken, please visit HUD.gov/coronavirus. Public Housing Authorities across the Nation have jumped into action to help assist their tenants and their communities during this unprecedented time. Read more about their stories featured in HUD's Neighbors Helping Neighbors campaign, here.
Read the full release.

Job Openings and Labor Turnover – June 2020. The number of job openings increased to 5.9 million on the last business day of June, the U.S. Bureau of Labor Statistics reported today. Hires decreased to 6.7 million in June, but was still the second highest level in the series history. The largest monthly increase in hires occurred in May 2020. Total separations increased to 4.8 million. Within separations, the quits rate rose to 1.9 percent while the layoffs and discharges rate was unchanged at 1.4 percent. These changes in the labor market reflected a limited resumption of economic activity that had been curtailed in March and April due to the coronavirus (COVID-19) pandemic and efforts to contain it. This release includes estimates of the number and rate of job openings, hires, and separations for the total nonfarm sector, by industry, and by four geographic regions.

Read the full release.
U.S. Department of Labor Acts to Help American Workers and Employers During the Coronavirus Pandemic. Last week, the U.S. Department of Labor took a range of actions to aid American workers and employers as our nation combats the coronavirus pandemic.
Reopening America's Economy:
Statement by U.S. Secretary of Labor Eugene Scalia on the July Jobs Report – "Today's strong jobs report completes a full week of encouraging economic news, including growth in manufacturing and services and declines in filings for unemployment benefits. The July job gains, which are the third largest in history, occurred in a period when some of our largest states were tightening restrictions in response to rising coronavirus cases. Even with these gains, far too many Americans remain out of work, and the Administration is determined to provide enhanced, targeted support for the unemployed while pursuing the pro-growth policies that led to the exceptional economy Americans experienced prior to the virus."
Statement by U.S. Secretary of Labor Scalia on Presidential Memorandum Authorizing the Other Needs Assistance Program for Major Disaster Declarations Related to Coronavirus Disease 2019 – "[The] Presidential Memorandum reflects President Trump's determination to identify and deploy all the authorities available to him to support Americans out of work as a result of the pandemic. The Memorandum follows the refusal of Democratic leadership to allow even a short-term extension of federal unemployment benefits while the parties negotiated a longer-term plan. The Department of Labor will now work closely with the States and the Department of Homeland Security and FEMA to assist in providing the relief made available by the Memorandum."
Defending Workers' Rights to Paid Leave and Wages Earned:
U.S. Department of Labor Offers Webinar in Korean for Employers, Employees About Paid Sick Leave, Families First Coronavirus Response Act – The Wage and Hour Division offered a Korean-language webinar on Aug. 5, 2020, to help employers and employees in Southern California's Korean communities understand the benefits and protections provided by the Families First Coronavirus Response Act (FFCRA).
U.S. Department of Labor Offers Webinar on Paid Sick Leave, Workplace Safety and Other Employer, Employee Concerns Amid Coronavirus Pandemic – The Wage and Hour Division hosted a webinar on Aug. 6, 2020, to help employers and employees understand the benefits and protections provided by the FFCRA. Representatives from the Department's Occupational Safety and Health Administration, the IRS, Small Business Administration, and the Louisiana Workforce Commission were also present during the webinar.
U.S. Department of Labor Offers Webinar for Employers, Employees On Pandemic's Impacts on Immigrant Employment Regulations – The Wage and Hour Division will host a webinar on Aug. 13, 2020, to help employers and employees understand provisions of the Immigration and Nationality Act (INA) and other requirements during the current coronavirus pandemic.  The webinar will focus on the INA and the H-2A and H-2B visa program certifications.



Governor Abbott Extends State Disaster Declaration For COVID-19. Governor Greg Abbott extended his Disaster Declaration for all Texas counties in response to COVID-19. Originally issued on March 13th, the Disaster Declaration provides the state a variety of resources to effectively serve Texans as the Lone Star State continues to mitigate the spread of COVID-19. View the Governor's proclamation.

Governor: MEDIA ADVISORY: Governor Abbott to Hold Briefing with Local Officials, Provide Update On COVID-19 In Beaumont, Victoria. Governor Greg Abbott will travel to Beaumont and Victoria on Tuesday, August 11th to hold briefings with local officials and provide an update on COVID-19. The Governor will be joined by Texas Division of Emergency Management (TDEM) Chief Nim Kidd.
*NOTE: Updated address for Beaumont location below
WHO: Governor Greg Abbott
TDEM Chief Nim Kidd
WHAT: Briefing (B-roll opportunity)
Press conference
Beaumont Location
WHEN: Tuesday, August 11th at 11:30 AM (Briefing – b-roll opportunity)
Press conference begins at 12:00 PM
WHERE: Jefferson County Clerk's Office
1085 Pearl Street
Beaumont, TX 77701
Victoria Location
WHEN: Tuesday, August 11th at 2:15 PM (Briefing – b-roll opportunity)
Press conference begins at 2:45 PM
WHERE: Victoria Emerging Technology Center
7403 Lone Tree Road
Victoria, TX 77905


COVID-19 Case Count. The Texas Department of State Health Services (DSHS) is working closely with the Centers for Disease Control and Prevention (CDC) in responding to the new coronavirus disease 2019 (COVID‑19) that is causing an outbreak of respiratory illness worldwide. State case counts can be found by accessing the DSHS COVID-19 Dashboard.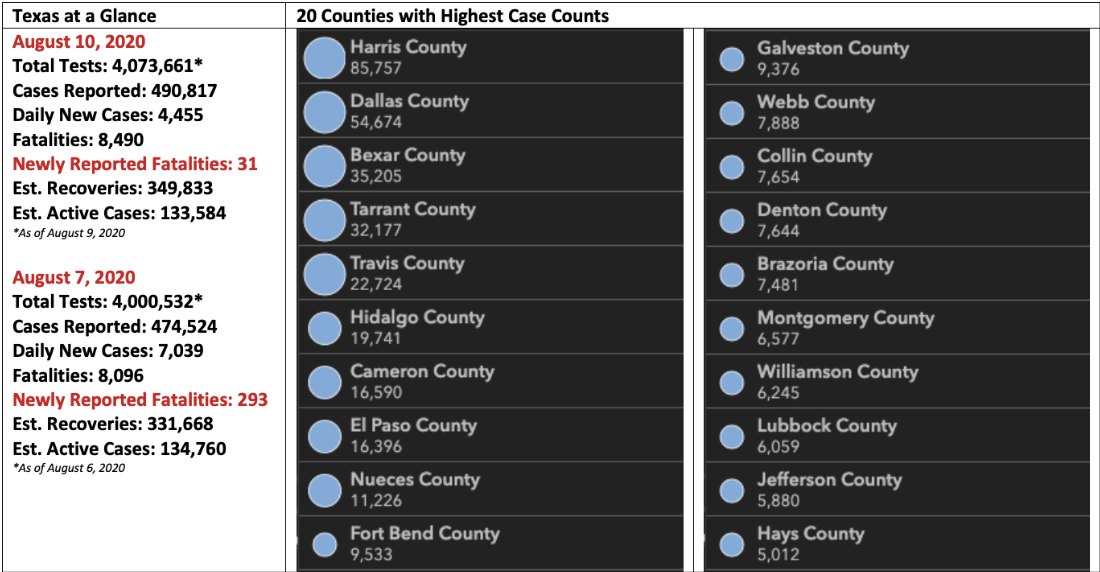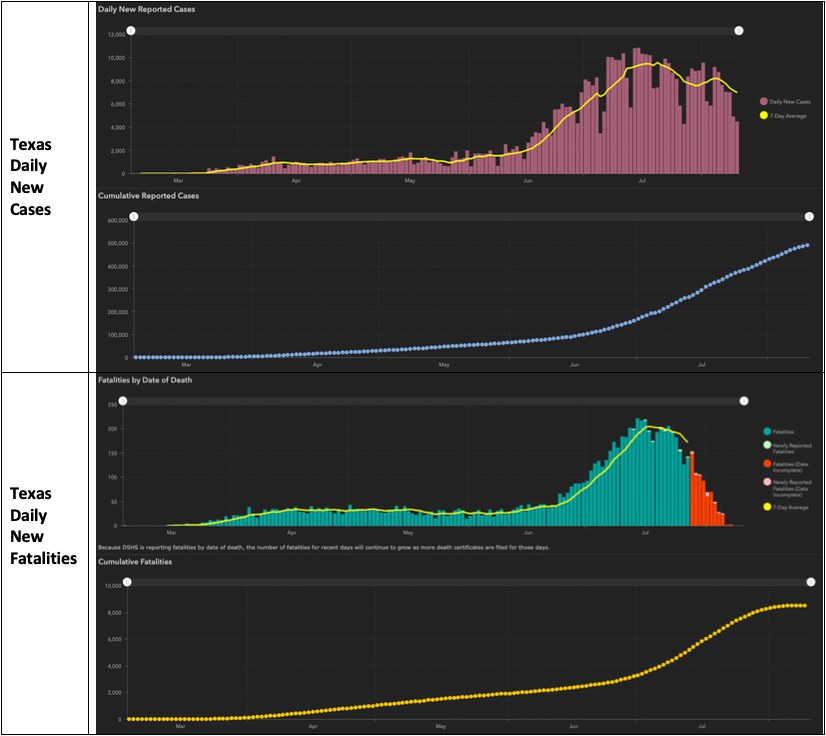 Read Older Reports.