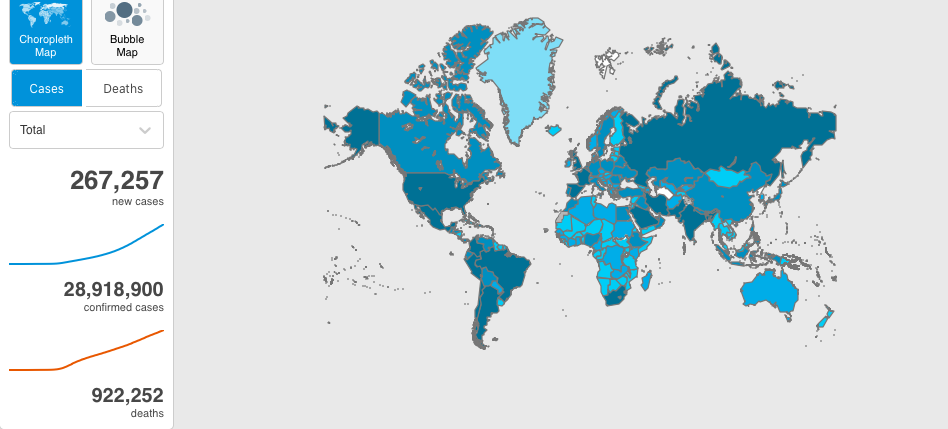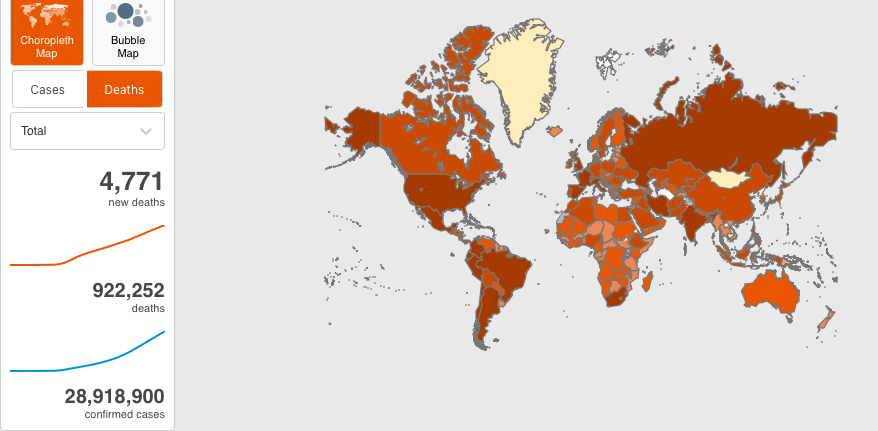 As of September 14th, 6:00 PM:
Total Cases: 6.5 Million +
Deaths: 193,950
Includes confirmed and probable cases where available.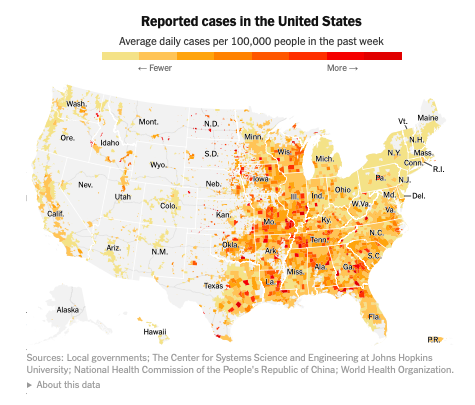 Harnessing Technology to Address Loneliness and Social Isolation
By: Vice Adm. Jerome M. Adams M.D., M.P.H., Surgeon General of the United States and Lance Robertson, Administrator, Administration for Community Living
Summary: 
Social isolation during the COVID-19 pandemic is a public health concern. Resources are available to help people stay connected even while physically distanced.
Physical distancing has played a critical role in reducing the spread of COVID-19 and, particularly in hotspots and for people at increased risk of serious illness, it continues to save lives. However, physical distancing also is increasing risk of social isolation for many, particularly older adults and people with disabilities, which is a serious issue.
Research tells us that social isolation can threaten health, and regular social interactions and having a strong personal network are important to a person's mental and physical health, resilience, and longevity. In fact, loneliness can pose as grave a threat to a person's health as smoking, obesity, or substance abuse. Loneliness can take a toll on one's physical, mental, and emotional health and may manifest in various ways. Health concerns stemming from social deprivation include high blood pressure, sleeplessness or less restful sleep, anxiety, depression, and thoughts of suicide. In addition, lack of human interaction may increase hormone levels that contribute to inflammation and weakened immunity, thereby increasing the risk of diseases.
In a recent Morbidity and Mortality Weekly Report from the Centers for Disease Control and Prevention (CDC), more than 40% of survey respondents experienced anxiety or depressive disorder, trauma- and stressor-related disorder, an onset or increase of substance use to cope with stress, or suicidal ideation related to COVID-19. Not surprisingly, the mental health implications of loneliness may lead to decreases in performance or productivity. These findings are important for remote workers, employers and educators. Loneliness may affect a person's creativity, reasoning, and decision-making and may lead to cognitive decline.
Loneliness stemming from social isolation is a public health concern that must be addressed – and COVID-19 has increased the urgency.
The good news is that there are many resources available to help people become—and remain—connected even while they are physically isolated, which can help ward off loneliness.
The bad news is that people often are not aware of these assets.
The U.S. Department of Health and Human Services Administration for Community Living (ACL) and Office of the Assistant Secretary for Health (OASH) have partnered with other supporting entities to help people become—and remain—connected and ward off loneliness, even while they are physically isolated. The Mobilizing and Empowering the Nation and Technology to Address Loneliness & social isolation (MENTAL) Health Challenge seeks to spur development of an easy to use, online tool that helps older adults, people with disabilities, and veterans learn about and access resources that can help them stay connected to family, friends, and their communities. This free resource will match people with appropriate technology tools, social engagement programs and social activities that fit their needs. Through the MENTAL Health Challenge, vulnerable and socially isolated people will be better equipped to engage with family, friends and distant loved ones to experience the benefits of closer human connections.
To learn more about the challenge and to get involved, visit the ACL website at https://acl.gov/MENTAL.

MORBIDITY AND MORTALITY WEEKLY REPORT (MMWR)
September 11, 2020 (EARLY RELEASE)
September 11, 2020

DAILY ROUNDUP
September 11, 2020
The U.S. Food and Drug Administration (FDA) today continued to take action in the ongoing response to the COVID-19 pandemic:
In a new FDA Voices entitled, The FDA's Scientific and Regulatory Oversight of Vaccines is Vital to Public Health, agency leaders explain that they are committed to making decisions that are guided by science and data regarding the authorization or approval of COVID-19 vaccines.
FDA issued a temporary guidance, "Resuming Normal Drug and Biologics Manufacturing Operations During the COVID-19 Public Health Emergency," to help drug and biological product manufacturers (including animal drug manufacturers) transition from operations impacted by the COVID-19 public health emergency to normal manufacturing operations. This guidance provides recommendations to help manufacturers prioritize products and activities as they resume normal operations and as they remediate current good manufacturing practice (CGMP) activities that were necessarily delayed, reduced, or otherwise modified during the public health emergency in order to maintain production and the drug supply. The guidance for industry "Planning for the Effects of High Absenteeism to Ensure Availability of Medically Necessary Drug Products" describes high-level considerations for resuming normal operations. This temporary guidance,however, provides more detailed considerations and is specific to the COVID-19 public health emergency.
Testing updates:

As of today, 247 tests are authorized by FDA under EUAs; these include 197 molecular tests, 46 antibody tests, and 4 antigen tests.
The FDA, an agency within the U.S. Department of Health and Human Services, protects the public health by assuring the safety, effectiveness, and security of human and veterinary drugs, vaccines and other biological products for human use, and medical devices. The agency also is responsible for the safety and security of our nation's food supply, cosmetics, dietary supplements, products that give off electronic radiation, and for regulating tobacco products.

NIH ACTIV initiative launches adaptive clinical trials of blood-clotting treatments for COVID-19. The National Institutes of Health has launched two of three adaptive Phase 3 clinical trials evaluating the safety and effectiveness of varying types of blood thinners to treat adults diagnosed with COVID-19. Part of the Accelerating COVID-19 Therapeutic Interventions and Vaccines (ACTIV) initiative, these trials will be conducted at more than 100 sites around the world and will involve patients in various clinical settings — those who have not been hospitalized, those currently hospitalized and those discharged after hospitalization for moderate to severe disease. Read the full news release
Substance use disorders linked to COVID-19 susceptibility. A National Institutes of Health-funded study found that people with substance use disorders (SUDs) are more susceptible to COVID-19 and its complications. The research, published today in Molecular Psychiatry, was co-authored by Nora D. Volkow, M.D., director of the National Institute on Drug Abuse (NIDA). The findings suggest that health care providers should closely monitor patients with SUDs and develop action plans to help shield them from infection and severe outcomes. Read the full news release

HUD AWARDS NEARLY $2 BILLION IN CARES ACT RELIEF FUNDS, FOCUSING ON COMMUNITIES WITH HIGHER RISK OF EVICTIONWASHINGTON – United States Department of Housing and Urban Development Secretary Ben Carson today announced the allocation of the remaining $1.988 billion in CARES Act funding for the Community Development Block Grant (CDBG) program. The allocation focuses funds towards places with households facing higher risk of eviction. To date, HUD has provided nearly $5 billion in CDBG funding nationwide to help communities combat the coronavirus and alleviate economic hardship.
"The Trump Administration has maintained that no one should risk losing their home due to the coronavirus," said Secretary Ben Carson. "We've taken several actions since the beginning of this pandemic to keep Americans in their homes. Today, we announce additional aid to the communities that need it the most. These funds can help households struggling to meet their rental or mortgage obligations to stay afloat as our nation continues to recover from the coronavirus pandemic."
These funds can be used to provide temporary financial assistance to meet rental obligations for up to 6 months. The funds are focused toward places with households facing higher risk of eviction. Specifically:
Communities with high rates of individuals in industries with high job loss in states with high unemployment;
Communities with high rates of businesses in industries with high job loss in states with high unemployment; and
Concentrations of those most at risk for transmission and risk of eviction, with higher amounts for states with high rates of coronavirus.
Today's announcement is consistent with the President's August 8, 2020 Executive Order
"Fighting the Spread of COVID-19 by Providing Assistance to Renters and Homeowners," which directs HUD to identify "any and all available Federal funds to provide temporary financial assistance to renters and homeowners who, as a result of the financial hardships caused by COVID-19, are struggling to meet their monthly rental or mortgage obligations."
Since President Trump issued that order, the United States Department of Housing and Urban Development (HUD) has reiterated the Trump Administration's commitment to minimize displacement and evictions resulting from the COVID-19 global pandemic national emergency. For more information on HUD's response to the novel coronavirus pandemic and the actions the Department has taken, please visit HUD.gov/coronavirus.
Homelessness service providers and Public Housing Authorities across the Nation have jumped into action to assist those they serve during this unprecedented time. Read more about their stories featured in HUD's Neighbors Helping Neighbors campaign, here.

SEPTEMBER 13, 2020
ICYMI: U.S. DEPARTMENT OF LABOR ACTS TO HELP AMERICAN WORKERS AND EMPLOYERS DURING THE CORONAVIRUS PANDEMIC 
WASHINGTON, DC – Last week, the U.S. Department of Labor took a range of actions to aid American workers and employers as our nation combats the coronavirus pandemic.

SEPTEMBER 11, 2020
Output down 11.2 percent, hours worked down 13.6 percent from 2019
From the second quarter of 2019 to the second quarter of 2020, nonfarm business output decreased 11.2 percent and hours worked decreased 13.6 percent, resulting in a 2.8-percent increase in productivity.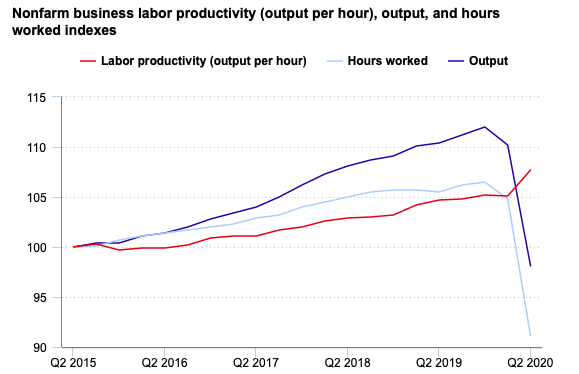 These data are from the Labor Productivity and Costs program. To learn more, see Productivity and Costs — Second Quarter 2020, Revised. Also see Charts related to the latest "Productivity and Costs" news release. Labor productivity, or output per hour, is calculated by dividing an index of real output by an index of hours worked by all persons, including employees, proprietors, and unpaid family workers. BLS calculates unit labor costs as the ratio of hourly compensation to labor productivity.
Number of unemployed people per job opening drops to 2.5 in July 2020
SEPTEMBER 14, 2020. On the last business day of July 2020, there were 6.6 million job openings and 16.3 million unemployed people during July 2020. This yielded a ratio of unemployed people to job openings of 2.5 for July, down from 3.0 in June.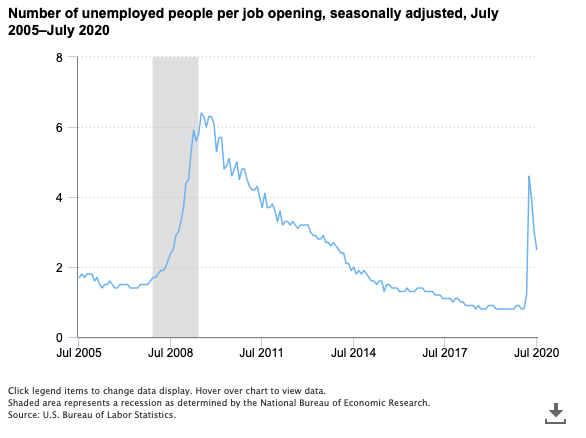 From March 2018 to February 2020, the ratio of unemployed people per job opening had been below 1.0. The number of unemployed people per job opening reached 1.2 in March 2020 and has steadily decreased since April 2020, when it reached 4.6.
These data are from the Job Openings and Labor Turnover Survey and are seasonally adjusted. Job openings data for the most recent month are preliminary. To learn more, see "Job Openings and Labor Turnover — July 2020." Also see more charts made showing job openings, hires, and separations data.




COVID-19 Case Count. The Texas Department of State Health Services (DSHS) is working closely with the Centers for Disease Control and Prevention (CDC) in responding to the new coronavirus disease 2019 (COVID‑19) that is causing an outbreak of respiratory illness worldwide. State case counts can be found by accessing the DSHS COVID-19 Dashboard.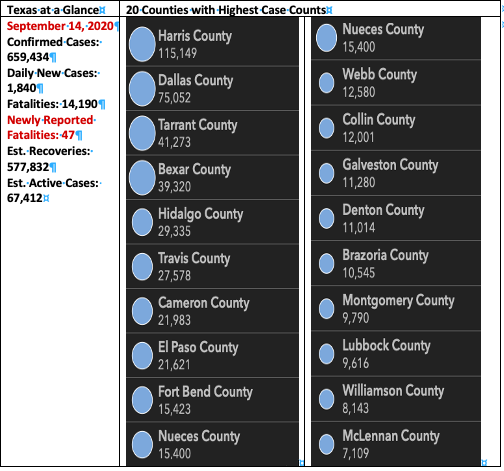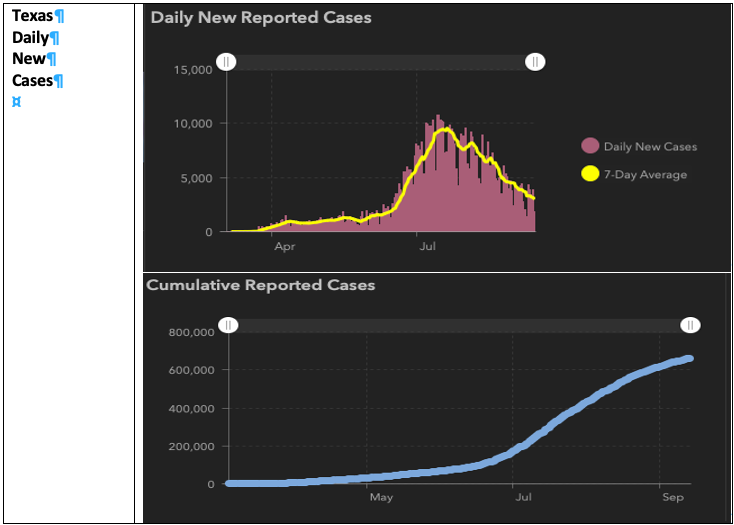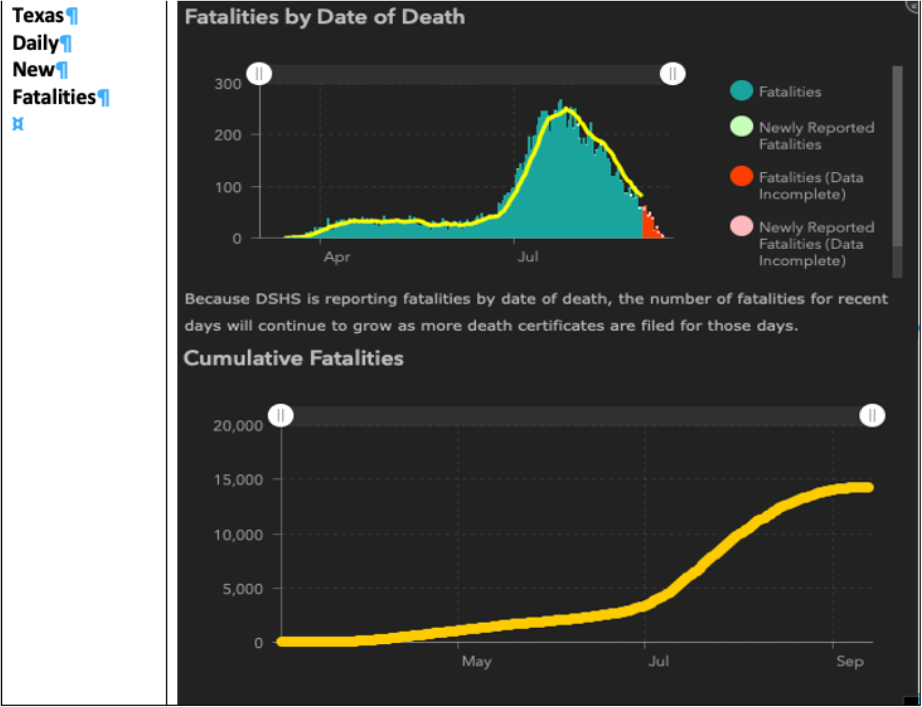 Texas expands and improves measures of COVID-19 positivity rate 
The Texas Department of State Health Services today will begin reporting two additional measures of the COVID-19 positivity rate, the percentage of tests that are positive in a given period. The update is the result of DSHS's work to enhance the state's COVID-19 data in partnership with the Governor's Strike Force.
While DSHS will continue to post the data in the form Texans are used to, DSHS will primarily rely on the positivity rate calculated according to when people were tested, the specimen collection date, which provides the most accurate view of the pandemic's effect over time. Because all test results received will be counted by when the test occurred, the rate for previous days will change as that information becomes more complete, and it will not be skewed by delays in reporting test results to the state.
"These enhancements are part of our continuous effort to improve the information we present," said Dr. John Hellerstedt, DSHS commissioner. "As the COVID-19 pandemic evolves, so must the data we share. Our information must provide the clearest possible picture of what is happening now and what has occurred in the past. The trends in this and other data shape our understanding of what to expect in the future."
As an additional point of reference, DSHS will also post a rate based on when lab results were reported to the state. Both new methods will use positive and total molecular test results reported in NEDSS, the National Electronic Disease Surveillance System, and be calculated as a seven-day average. They will also exclude duplicate or other erroneous lab results. Recent upgrades to NEDSS now allow DSHS to clean up the testing data more quickly to be used in the positivity calculations.
The state's legacy positivity rate used the number of new confirmed COVID-19 cases over seven days divided by the number of new molecular test results over the same seven days. That method served as a reliable proxy for the overall COVID-19 trend for most of the pandemic. However, an influx of older test results in August caused new cases and new test results to get out of sync, leading to large swings in the positivity rate and the need to reevaluate methods to calculate it.
The positivity rate by specimen collection date shows a peak in late June and July as Texas saw a dramatic increase in the number of COVID-19 cases reported in the state. The other methods mirror the same overall trend until diverging when the older test results began to be reported in August. DSHS will post all three methods for a time to allow for a continued comparison.
Each day, more than 600 clinical laboratories and other testing providers, 600 hospitals, 57 local health entities and the eight DSHS public health regions submit data about COVID-19 to DSHS where it is quickly analyzed and reported to the public to the provide the most up-to-date information possible. DSHS will continue to work with the Strike Force on further improvements.
Read Older Reports.