Globally in the past week, cases of COVID-19 have increased by 8%, compared to the previous week, resulting in over 3.6 million new cases, while new deaths have increased by 21% to over 54 000. This brings the cumulative numbers to over 49.7 million reported cases and over 1.2 million deaths globally since the start of the pandemic.
Key Items from the WHO's Weekly Coronavirus Disease (COVID-19) Epidemiological Update:
As health leaders gather virtually for the resumed 73rd session of the World Health Assembly, WHO has three messages to share:
We can beat COVID-19 with science, solutions and solidarity:  many countries and cities have successfully prevented or controlled transmission with a comprehensive, evidence-based approach
We must not backslide on our critical health goals: health is the foundation of social, economic and political stability
We must prepare for the next pandemic now: countries with robust health emergency preparedness infrastructure have been able to act quickly to contain and control the spread of the SARS-CoV-2 virus
WHO has published the following documents:
UNICEF and the World Health Organization issued an urgent call to action to avert major measles and polio epidemics as COVID-19 continues to disrupt immunization services worldwide, leaving millions of vulnerable children at heightened risk of preventable childhood diseases. WHO estimates that $655 million US dollars is needed to address dangerous immunization gaps in children in non-Gavi eligible countries.
WHO and the International Coalition of Medicines Regulatory Authorities have released a joint statement on the need for improved global regulatory alignment on COVID-19 medicines and vaccines. Therapeutics and vaccines against COVID-19 can only be rapidly approved if applications are supported by robust and sound scientific evidence that allows medicine regulators to conclude on a positive benefit-risk balance for these products.
Read the full update.
View the WHO's Situation Dashboard for COVID-19 here.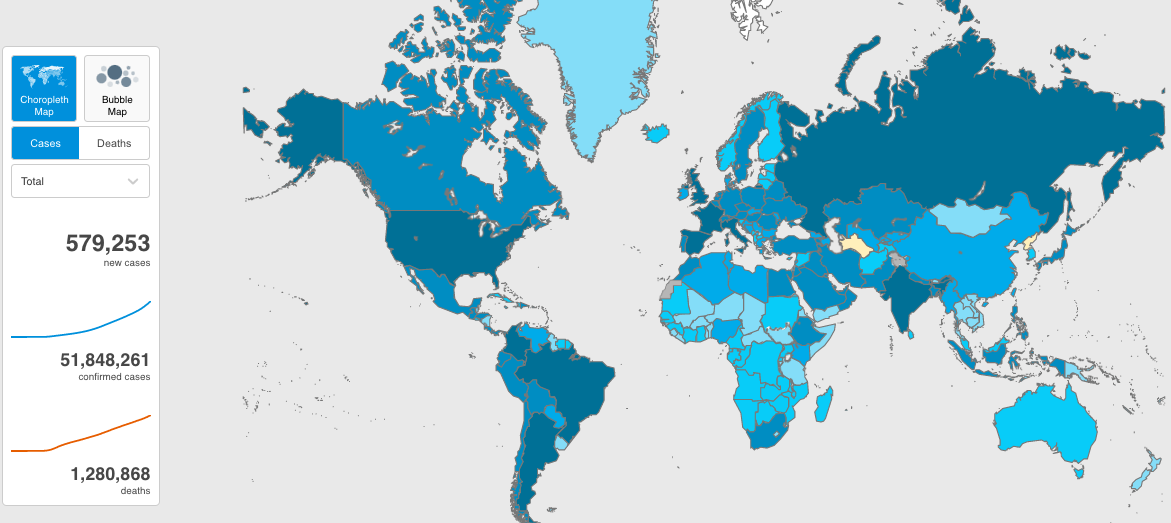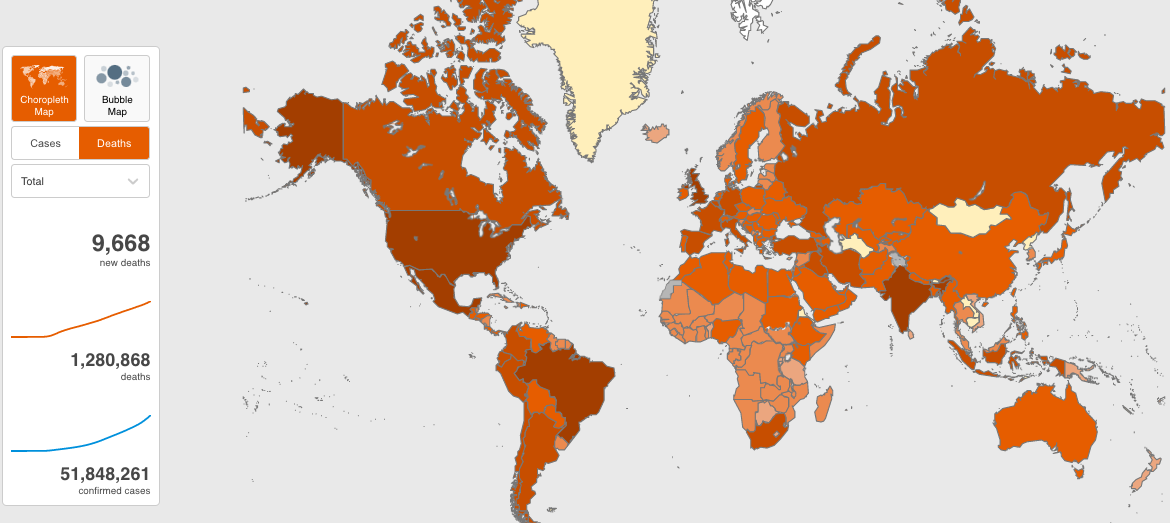 As of November 12, 2020, 2:05 P.M. E.T.
 
Total Reported
On Nov. 11
14-Day Change
Cases
10.5 million
142,860
+69%
Deaths
242,196
1,431
+36%
Hospitalized
65,373
+37%
Hospitalization data from the Covid Tracking Project. 14-day change trends use 7-day averages.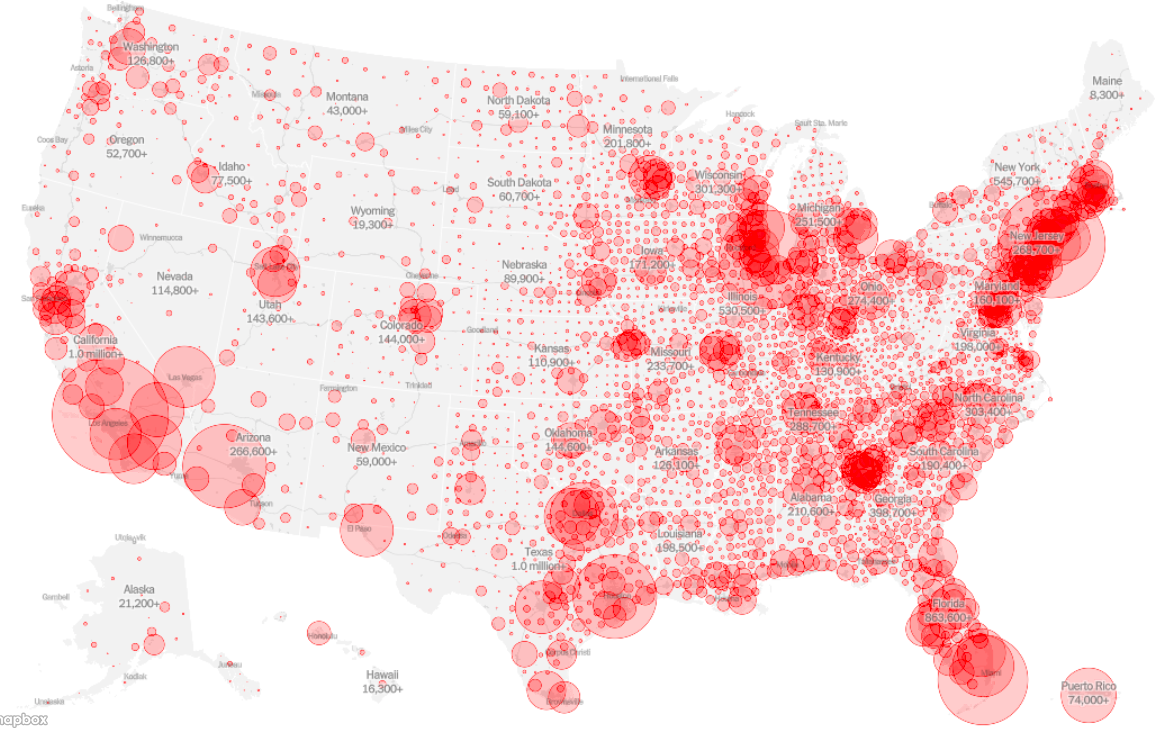 COVID-19: Non-Physician Practitioner Billing for CPT Codes 98966-98968. During the COVID-19 Public Health Emergency (PHE), non-physician practitioners who are eligible to bill Medicare directly, including registered dietitians and nutrition professionals, may bill for audio-only telephone assessment and management services:
CPT codes 98966-98968
Dates of service on or after March 1 until the end of the PHE

CMS Issues Interim Final Rule with Comment Period to Ensure Coverage of COVID-19 Vaccines & Therapeutics. The Centers for Medicare & Medicaid Services released an Interim Final Rule with comment period. The rule:
Establishes that any vaccine receiving Food and Drug Administration authorization, either through an Emergency Use Authorization or licensed under a Biologics License Application, will be covered under Medicare as a preventive vaccine at no cost to beneficiaries.
Addresses vaccine coverage for most Medicaid and CHIP beneficiaries with no cost sharing during the public health emergency.
Implements provisions of the CARES Act. This ensures coverage of a COVID-19 vaccine by most private health insurance plans without cost sharing from both in and out-of-network providers during the public health emergency.
Read the Interim Final Rule with comment period fact sheet.
Read the Interim Final Rule with comment period (PDF).

COVID-19 Vaccine Codes and PC-ACE Software Update. In anticipation of the availability of a vaccine(s), for the novel coronavirus (SARS-CoV-2) in response to the coronavirus disease 2019 (COVID-19), the American Medical Association (AMA), working with the Centers for Medicare & Medicaid Services (CMS), created new codes for the vaccine and the administration of the vaccine.  To prepare for the vaccine administration claims, the PC-ACE software is also updated and ready for providers to download.
If you intend to administer the COVID-19 vaccines when they become available, or the new monoclonal antibody bamlanivimab, especially if you intend to roster bill these codes, please download and install the new release of PC-ACE. This release includes the coding structure, currently comprised of both a HCPCS Level I CPT code structure issued by the American Medical Association (AMA) and a HCPCS Level II code structure issued by CMS. Together, these codes support the administration of the COVID-19 vaccines and the monoclonal antibody infusions, as they become available; this structure includes the codes for bamlanivimab. This code structure was developed to facilitate efficient claims processing for any COVID-19 vaccines and monoclonal antibody infusions that receive FDA EUA or approval. CMS and the AMA are working collaboratively regarding which codes to submit for COVID-19 vaccines and administration.  Most of these codes are not currently effective and not all codes will be used.  We will issue specific code descriptors in the future.  Effective dates for the codes for Medicare purposes will coincide with the date of the FDA EUA or approval.

CMS COVID-19 Stakeholder Engagement Calls – November. CMS hosts varied recurring stakeholder engagement sessions to share information related to the agency's response to COVID-19. These sessions are open to members of the healthcare community and are intended to provide updates, share best practices among peers, and offer attendees an opportunity to ask questions of CMS and other subject matter experts.
Call details are below. Conference lines are limited so we highly encourage you to join via audio webcast, either on your computer or smartphone web browser. You are welcome to share this invitation with your colleagues and professional networks. These calls are not intended for the press.
Calls recordings and transcripts are posted on the CMS podcast page at: https://www.cms.gov/Outreach-and-Education/Outreach/OpenDoorForums/PodcastAndTranscripts

CMS Takes Steps to Ensure Medicare Beneficiaries Have Wide Access to COVID-19 Antibody Treatment. CMS announced that starting November 10, Medicare beneficiaries can receive coverage of monoclonal antibodies to treat COVID-19 with no cost-sharing during the Public Health Emergency (PHE). CMS' coverage of monoclonal antibody infusions applies to bamlanivimab, which received an Emergency Use Authorization (EUA) from the FDA on November 9.
CMS anticipates that this monoclonal antibody product will initially be given to health care providers at no charge. Medicare will not pay for the monoclonal antibody products that providers receive for free but this action provides for reimbursement for the infusion of the product. When health care providers begin to purchase monoclonal antibody products, Medicare anticipates setting the payment rate in the same way it set the payment rates for COVID-19 vaccines, such as based on 95% of the average wholesale price for COVID-19 vaccines in many provider settings. CMS will issue billing and coding instructions for health care providers in the coming days.
CMS anticipates the announcement will allow for a broad range of providers and suppliers, including freestanding and hospital-based infusion centers, home health agencies, nursing homes, and entities with whom nursing homes contract, to administer this treatment in accordance with the EUA, and bill Medicare to administer these infusions.
Under section 6008 of the Families First Coronavirus Response Act (FFCRA), state and territorial Medicaid programs may receive a temporary 6.2 percentage point increase in the Federal Medical Assistance Percentage (FMAP), through the end of the quarter in which the COVID-19 PHE ends. A condition for receipt of this enhanced federal match is that a state or territory must cover COVID-19 testing services and treatments, including vaccines and their administration, specialized equipment, and therapies for Medicaid enrollees without cost sharing. This means that this monoclonal antibody infusion is expected to be covered when furnished to Medicaid beneficiaries, in accordance with the EUA, during this period, with limited exceptions.
View the Monoclonal Antibody COVID-19 Infusion Program Instruction.

HHS allocates Lilly therapeutic to treat patients with mild to moderate COVID-19. The U.S. Department of Health and Human Services today announced plans to allocate initial doses of Eli Lilly and Company's investigational monoclonal antibody therapeutic, bamlanivimab, which received emergency use authorization from the U.S. Food and Drug Administration November 9 for the treatment of non-hospitalized patients with mild or moderate confirmed cases of COVID-19.
On October 28, the federal government announced a purchase of 300,000 doses of bamlanivimab. HHS will allocate these doses to state and territorial health departments which, in turn, will determine which healthcare facilities receive the infusion drug. The federal government can purchase up to 650,000 additional doses if needed through June 30, 2021, for distribution across the country.
A data-driven system will ensure continued fair and equitable distribution of these new products. Beginning immediately, weekly allocations to state and territorial health departments will be proportionally based on confirmed COVID-19 cases in each state and territory over the previous seven days, based on data hospitals and state health departments enter into the HHS Protect data collection platform.
The intravenous administration of therapeutics to non-hospitalized patients with confirmed mild to moderate COVID-19 presents unique challenges. To accommodate IV infusions, outpatient facilities must have appropriate healthcare staffing, training and equipment. Additional preparation time may be required for some treatment facilities before they can administer the treatment to patients.
The infusion process takes approximately one hour and may be followed by an observation period. Under the EUA, bamlanivimab may only be administered in settings in which health care providers have immediate access to medications to treat a severe infusion reaction, such as anaphylaxis, and the ability to activate the emergency medical system (EMS), as necessary. Facilities also must have space available to administer the medication in a manner that minimizes infection transmission.
Possible locations include hospital outpatient facilities, hospital emergency departments, and alternate care sites set up by hospitals and health departments under the 'hospital without walls' flexibility provided by the Centers for Medicare & Medicaid Services to support a surge of hospitalized patients.
These government-purchased doses will be available at no cost to patients, although healthcare facilities could charge for administering the medicine – as is customary with such government-purchased products.
Read the full release.
Trump Administration Partners with Chain and Independent Community Pharmacies to Increase Access to Future COVID-19 Vaccines. To maximize access to COVID-19 vaccines for all Americans, the U.S. Department of Health and Human Services (HHS) today announced the U.S. government's partnerships with large chain pharmacies and networks that represent independent pharmacies and regional chains. Through the partnership with pharmacy chains, this program covers approximately 60 percent of pharmacies throughout the 50 states, the District of Columbia, Puerto Rico, and the U.S. Virgin Islands.  Through the partnerships with network administrators, independent pharmacies and regional chains will also be part of the federal pharmacy program, further increasing access to vaccine across the country—particularly in traditionally underserved areas.
In addition to traditional brick-and-mortar pharmacies, pharmacists, pharmacy interns, and pharmacy technicians also provide vaccinations in retail and grocery stores. Therefore, pharmacy vaccinators are crucial public health partners for increasing access and convenience of COVID-19 vaccines. Many pharmacists and the interns and technicians working under their supervision are trained to provide immunizations and are already important immunizers in their communities. Pharmacists are also a trusted health resource in their communities, and have played a vital role in the public health response to COVID-19 by counseling patients, expanding access to childhood vaccinations during the pandemic, and ordering and administering COVID-19 tests.  By working with these partners, the federal government will rapidly expand access to COVID-19 vaccines. Vaccine will be administered at partners' pharmacy locations at no cost to patients.
Pharmacies that do not participate in the federal allocation program are encouraged to be part of the solution and should coordinate with their jurisdiction's health department to become COVID-19 vaccine providers.
Below is the list of chain and community-pharmacies networks that have signed on as of November 6
Albertsons Companies, Inc. (incl., Osco, Jewel-Osco, Albertsons, Albertsons Market, Safeway, Tom Thumb, Star Market, Shaws, Haggen, Acme, Randalls, Carrs, Market Street, United, Vons, Pavilions, Amigos, Lucky's, Pak n Save, Sav-On)
Costco Wholesale Corp.
CPESN USA, LLC
CVS Pharmacy, Inc. (incl. Long's)
Good Neighbor Pharmacy and AmerisourceBergen Drug Corporation's PSAO, Elevate Provider
Health Mart Systems, Inc.
H-E-B, LP
Hy-Vee, Inc.
LeaderNET and Medicine Shoppe, Cardinal Health's PSAOs
Managed Health Care Associates (MHA)
Meijer Inc.
Publix Super Markets, Inc.
Retail Business Services, LLC (incl., Food Lion, Giant Food, The Giant Company, Hannaford Bros Co, Stop & Shop)
Rite Aid Corp.
The Kroger Co. (incl., Kroger, Harris Teeter, Fred Meyer, Frys, Ralphs, King Soopers, Smiths, City Market, Dillons, Marianos, Pick-n-Save, Copps, Metro Market)
Topco Associates, LLC (incl. Big-Y Pharmacy and Wellness Center, Brookshire's Pharmacy, Super One Pharmacy, FRESH by Brookshire's Pharmacy, Coborn's Pharmacy, Cash Wise Pharmacy, MarketPlace Pharmacy, Hartig Drug Company, King Kullen, Food City Pharmacy, Ingles Pharmacy, Raley's, Bel Air, Nob Hill Pharmacies, Save Mart Pharmacies, Lucky Pharmacies, SpartanNash, Price Chopper, Market 32, Tops Friendly Markets, ShopRite, Wegmans, Weis Markets, Acme Fresh Markets)
Walgreens (incl. Duane Reade)
Walmart, Inc. (incl. Sam's Club)
Winn-Dixie Stores Inc. (incl. Winn-Dixie, Harveys, Fresco Y Mas)
Currently, there are no COVID-19 vaccines that have been authorized or approved by the Food and Drug Administration and recommended by CDC's Advisory Committee on Immunization Practices to the CDC.  However, this pharmacy partnership is being established in anticipation that one or more COVID-19 vaccines will be authorized or approved and recommended for use in the United States before the end of 2020.

Mental Health–Related Emergency Department Visits Among Children Aged <18 Years During the COVID-19 Pandemic — United States, January 1–October 17, 2020: Summary
What is already known about this topic? Emergency departments (EDs) are often the first point of care for children's mental health emergencies. U.S. ED visits for persons of all ages declined during the early COVID-19 pandemic (March–April 2020).
What is added by this report? Beginning in April 2020, the proportion of children's mental health–related ED visits among all pediatric ED visits increased and remained elevated through October. Compared with 2019, the proportion of mental health–related visits for children aged 5–11 and 12–17 years increased approximately 24%. and 31%, respectively.
What are the implications for public health practice? Monitoring indicators of children's mental health, promoting coping and resilience, and expanding access to services to support children's mental health are critical during the COVID-19 pandemic.
Read the summary.

Risk Assessment and Management of COVID-19 Among Travelers Arriving at Designated U.S. Airports, January 17–September 13, 2020: Summary
What is already known about this topic? As an early effort to prevent importation of SARS-CoV-2, CDC established entry screening at designated airports for passengers from certain countries.
What is added by this report? Passenger entry screening was resource-intensive with low yield of laboratory-diagnosed COVID-19 cases (one case per 85,000 travelers screened). Contact information was missing for a substantial proportion of screened travelers in the absence of manual data collection.
What are the implications for public health practice? Symptom-based screening programs are ineffective because of the nonspecific clinical presentation of COVID-19 and asymptomatic cases. Reducing COVID-19 importation has transitioned to enhancing communication with travelers to promote recommended preventive measures, strengthening response capacity at ports of entry, and encouraging predeparture and postarrival testing. Collection of contact information from international air passengers before arrival would facilitate timely postarrival management when indicated.
Read the full release.

COVID-19 Outbreak in an Amish Community — Ohio, May 2020: Summary
What is already known about this topic? COVID-19 cases have been increasing in rural U.S. communities. Social gatherings can facilitate exposure to and transmission of SARS-CoV-2.
What is added by this report? Social gatherings, important in Amish communities, likely contributed to rapid transmission of SARS-CoV-2 in a rural Ohio Amish community. Some community members were concerned about having to follow critical mitigation strategies, including social distancing and mask wearing.
What are the implications for public health practice? COVID-19 outbreaks in communities where social gatherings are common might be prevented by fostering collaborations and trust between the community and local health departments, sharing culturally and linguistically responsive health messages that emphasize protecting family and community members through established communication networks, and ensuring timely and convenient access to testing.
Read the release.

Treatments for people with early COVID-19 infection is an urgent research focus. COVID-19 treatments for people with early infection are needed urgently, according to a JAMA Viewpoint article by National Institute of Allergy and Infectious Diseases (NIAID) Director Anthony S. Fauci, M.D., and colleagues. Treating people early in the course of infection with SARS-CoV-2, the virus that causes COVID-19, would speed their recovery, reduce the likelihood that they develop severe outcomes and reduce demand on the healthcare system, they write.
Despite experiencing only mild symptoms early in infection, many COVID-19 patients progress to severe disease that leads to hospitalization. Some also will experience lengthy recoveries and develop long-lasting fatigue, mental impairment and problems with heart and lung function.
While several treatments such as remdesivir and dexamethasone are either available or in development for severe COVID-19, interventions that can be administered early during the course of infection to prevent disease progression and longer-term complications are urgently needed.
Studies are underway to assess whether existing antivirals can be repurposed for early treatment.  Scientists also are exploring the effectiveness of early treatment with therapies that specifically target SARS-CoV-2, such as convalescent plasma and monoclonal antibodies. Investigators also are exploring strategies to deliver therapies by alternative routes than by intravenous infusion, such as by inhalation or intramuscular injection.
Read the full release.

NIH calls on clinical researchers to swiftly share COVID-19 results. NIH is taking an all-hands-on-deck approach to speeding life-saving research for vaccines, treatments, and diagnostic tests to end the COVID-19 pandemic. Through the establishment of major public-private initiatives such as the Accelerating COVID-19 Therapeutic Interventions and Vaccines (ACTIV) and the Rapid Acceleration of Diagostics (RADx) initiatives, NIH and its partners have launched dozens of COVID-19 vaccine and treatment clinical trials and funded dozens of new and innovative testing technologies at an unprecedented rate.
To maintain this record pace, it will be crucial for clinical researchers involved in COVID-19 and SARS-CoV-2 clinical trials to share their results as swiftly as possible. Toward this end, I strongly encourage the clinical research community to register their clinical trials and submit summary results information for COVID-19 and SARS-CoV-2 trials as quickly as possible and ahead of regulatory and policy deadline requirements to ClinicalTrials.gov, the publicly accessible database operated by NIH's National Library of Medicine.
To ensure such information is accessible as quickly as possible, NIH is prioritizing the processing of COVID-19 submissions to ClinicalTrials.gov to make the information rapidly available in a matter of days, not weeks. We are also providing one-on-one support to researchers during the process of submitting results information to ClinicalTrials.gov to address questions and optimize reporting.
NIH has taken several additional actions to speed access and discoverability for researchers, clinicians, and the public of critical information from COVID-19 and SARS-CoV-2 research, including:
Supporting the infrastructure for timely dissemination of COVID-19 clinical trial data.
Making it easier to find information about COVID-19-related studies on ClinicalTrials.gov, including information about studies listed on the World Health Organization's International Clinical Trial Registry Platform. These efforts have made information about more than 6,400 COVID-19 related clinical studies readily available to those who need it.
Launching a preprint pilot, which has made more than 1,000 preprints with early reporting on NIH-funded research related to COVID-19 discoverable through PubMed. More than 80 percent of these preprints have yet to be published, highlighting the importance of this pilot effort in accelerating early access to research results ahead of peer-reviewed publication.
The scientific community bears collective responsibility for expediting the dissemination of knowledge from NIH-funded research. Doing so will bring COVID-19 treatments and vaccines to the American public and the world as quickly as possible.
Francis S. Collins, M.D., Ph.D.
Director, National Institutes of Health
In the week ending November 7, the advance figure for seasonally adjusted initial claims was 709,000, a decrease of 48,000 from the previous week's revised level. The previous week's level was revised up by 6,000 from 751,000 to 757,000. The 4-week moving average was 755,250, a decrease of 33,250 from the previous week's revised average. The previous week's average was revised up by 1,500 from 787,000 to 788,500.
The advance seasonally adjusted insured unemployment rate was 4.6 percent for the week ending October 31, a decrease of 0.3 percentage point from the previous week's revised rate. The previous week's rate was revised down by 0.1 from 5.0 to 4.9 percent. The advance number for seasonally adjusted insured unemployment during the week ending October 31 was 6,786,000, a decrease of 436,000 from the previous week's revised level. The previous week's level was revised down by 63,000 from 7,285,000 to 7,222,000. The 4-week moving average was 7,575,750, a decrease of 653,000 from the previous week's revised average. The previous week's average was revised down by 15,750 from 8,244,500 to 8,228,750.
Read the full release here.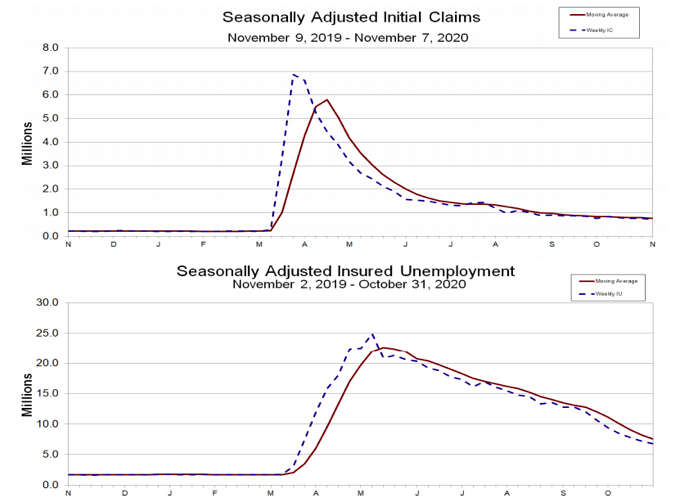 Governor Abbott Deploys Additional COVID-19 Resources To El Paso, Lubbock. Governor Greg Abbott has deployed additional resources to El Paso and Lubbock to help combat COVID-19 in these communities. These resources include medical personnel, medical equipment, personal protective equipment (PPE), mobile testing sites, and more.
The Texas Division of Emergency Management (TDEM) and the Texas Department of State Health Services (DSHS) have deployed two Auxiliary Medical Units (AMU) to Lubbock to assist with onsite surge capacity for local hospitals, with additional AMU's available in the region if needed. The State has also surged additional medical personnel to the Panhandle and South Plains to assist area hospitals. There are currently 716 personnel in the region with more being deployed as needed. TDEM continues to provide the Panhandle and South Plains with over 7.4 million masks, 3.9 million gloves, over 1 million gowns and coveralls and over 240,000 face shields. The State also continues to operate three testing sites in Lubbock.
TDEM and DSHS have deployed over 1,350 medical personnel to the El Paso region with more being deployed as needed. The Alternate Care Site in El Paso, established in late October, is increasing capacity from 65 beds to 100 beds by Friday. Last week, Governor Abbott announced that three U.S. Air Force Medical Specialty Teams have been deployed by the U.S. Department of Defense to assist area hospitals. DSHS has also deployed six AMUs to assist area hospitals with surge capacity. TDEM continues to provide the El Paso community with over 9.1 million masks, over 3 million gloves, over 964,000 gowns and coveralls, and over 245,000 face shields. The State is currently operating 8 testing sites across El Paso County.

State of Texas Prepared to Swiftly Distribute COVID-19 Treatments Becoming Available. Governor Greg Abbott announced that the State of Texas has prepared allocation plans to swiftly distribute medicines and vaccines that are now becoming available to treat COVID-19.
Yesterday was the first day of what will be many announcements in the coming weeks about the availability of medicines and vaccines to combat COVID-19.
On Monday, the U.S. Food and Drug Administration (FDA) authorized the immediate use of the first medical treatment developed for people who contract COVID-19. An antibody drug by Eli Lilly & Co., called bamlanivimab, has been shown to improve the symptoms of people who contract the virus and prevent hospitalizations.
The FDA said the drug is authorized for patients at high risk of progressing to severe COVID-19, including people 65 and older, or who have certain pre-existing medical conditions.
Lilly is expected to immediately ship approximately 80,000 doses across the country, including Texas, at no cost to the states. Lilly should have up to one million doses by the end of the year.
Similar to the Lilly antibody treatment, Regeneron Pharmaceuticals Inc. also has requested FDA emergency use authorization of its own COVID-19 antibody medical treatment to treat patients before they become seriously ill and aid in reducing hospitalizations, with an announcement of the FDA's decision expected soon. This is the same antibody drug that President Donald Trump took to quickly recover from COVID-19 last month.
The federal government has agreed to buy hundreds of thousands of doses of the two new treatment drugs and will be in charge of allocating supplies to the states, which will in turn determine distribution to hospitals and healthcare facilities. It is likely that the doses will be allocated to states and U.S. territories based on their share of hospitalized and infected patients.
These medical treatments are in addition to the announcement by Pfizer that its COVID-19 vaccine candidate achieved incredible success in an early analysis — demonstrating over 90% efficacy in preventing COVID-19. It is expected to become available as soon as late November.
The State of Texas has already prepared to distribute the COVID-19 vaccines and medical treatments.
The Department of State Health Services (DSHS) has already developed a Vaccine Distribution Plan and is working with health care providers to enroll in their Immunization Program to be eligible to administer these vaccines once available. Over 2,500 providers have already enrolled in the program. DSHS formed an Expert Vaccine Allocation Panel to develop vaccine allocation strategies.
The Texas Division of Emergency Management (TDEM) is prepared to assist the swift distribution of COVID-19 vaccines and treatments. In late October, TDEM hosted the State of Texas COVID-19 Vaccine Virtual Tabletop Exercise – over 1,000 local, state, federal, and non-governmental organization partners came together to test the state's vaccine support plan, understand its operational procedures, and examine their roles and responsibilities.

Texas Comptroller's Office Highlighted in Pandemic Procurement Conference. The Texas Comptroller's Statewide Procurement Division (SPD) was highlighted for its COVID-19 pandemic response during the recent National Association of State Procurement Officials (NASPO) annual conference.
The conference, held in September, showcased the responses of a dozen states to the pandemic and the work their procurement offices did to meet the needs of their citizens.
As it does in other state disasters, SPD provided assistance to the Texas Division of Emergency Management in procuring necessary goods and services to help mitigate the impact of COVID-19. Unlike typical events such as flooding and hurricanes, however, the division was thrust into procuring goods and services with which it had no prior experience, said Bobby Pounds, SPD director.
SPD is Texas state government's central procurement office for non-information technology commodities and services. SPD also functions as a procurement oversight agency, offering technical assistance and training to more than 200 agencies and certifying more than 5,000 procurement and contracting professionals statewide. A tribute video highlighting the pandemic effort of each of the state procurement offices that was honored is available on the NASPO website.

Comptroller Glenn Hegar Distributes Nearly $891 Million in Monthly Sales Tax Revenue to Local Governments. Texas Comptroller Glenn Hegar announced today he will send cities, counties, transit systems and special purpose taxing districts $890.5 million in local sales tax allocations for November, 4.8 percent more than in November 2019. These allocations are based on sales made in September by businesses that report tax monthly, and on sales made in July, August and September by quarterly filers. For details on November sales tax allocations to individual cities, counties, transit systems and special purpose districts, visit the Comptroller's Monthly Sales Tax Allocation Comparison Summary Reports.



COVID-19 Case Count. The Texas Department of State Health Services (DSHS) is working closely with the Centers for Disease Control and Prevention (CDC) in responding to the new coronavirus disease 2019 (COVID‑19) that is causing an outbreak of respiratory illness worldwide. State case counts can be found by accessing the DSHS COVID-19 Dashboard.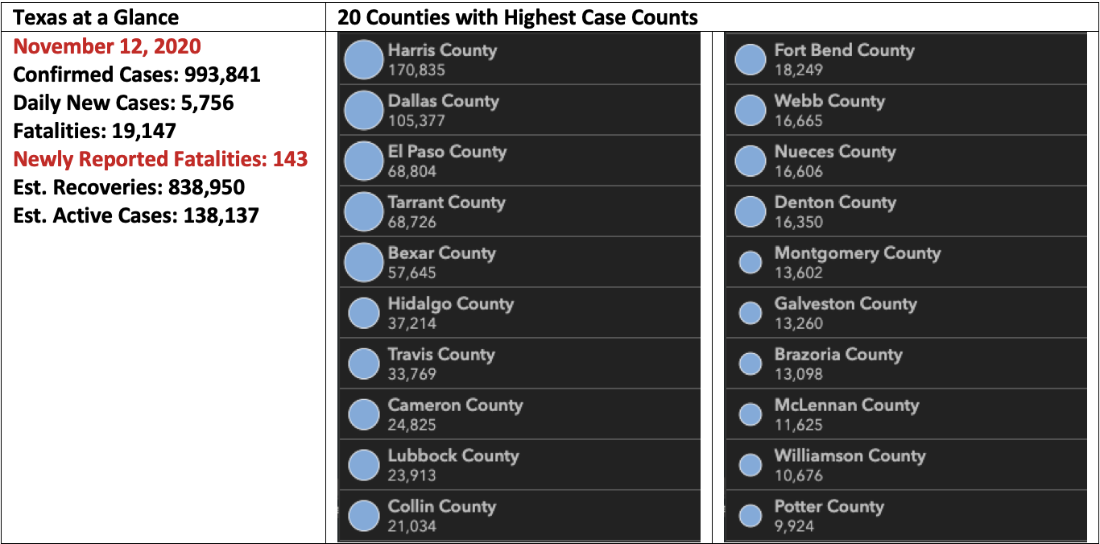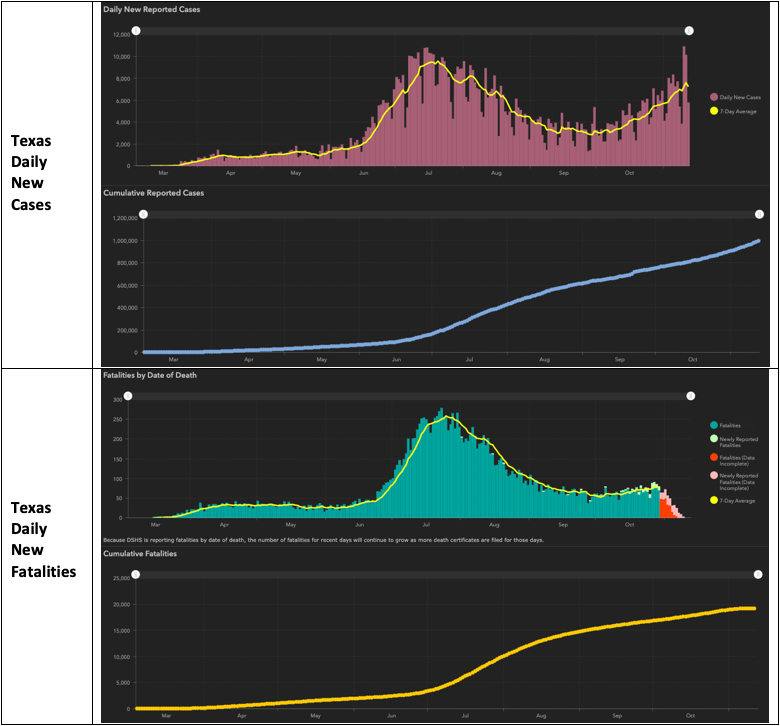 344 older cases recently reported by labs were included in the statewide total but excluded from statewide and El Paso County new confirmed cases (976).
1,764 older cases recently reported by labs were included in the statewide total but excluded from statewide and Harris County new confirmed cases (325).
597 older cases recently reported by labs were included in the statewide total but excluded from statewide and Williamson County new confirmed cases (68).

HHSC Issues Guidance on CDTF Electronic Outpatient Treatment Service Delivery in Response to COVID-19 (GL 20-3009). GL 20-3009 (PDF), related to the adoption of an emergency rule related to outpatient treatment services via electronic means for adolescents, has been posted. This letter discusses the emergency rule that went into effect on November 8th, 2020.
Email the Health Care Regulation's Policy, Rules and Training unit with your questions.

REMINDER: HHSC 2020 COVID-19 Impact Survey — Only a Few Days Left. The Texas Health and Human Services Commission wants to remind you that this is the final week to fill out the COVID-19 Impact Survey for HHSC health care providers. The deadline to complete the survey is Nov. 13 at 5 p.m.
The survey questions are here so you may gather the information necessary to complete the survey. It should take about 20 minutes to complete. Thank you for your time, and we look forward to your feedback.

HHSC Publishes Updated COVID-19 Response Plan for ALF Providers. HHSC has published an updated version of the COVID-19 Response Plan (PDF) for assisted living facilities.

HHSC Publishes Updated COVID-19 Frequently Asked Questions for HCSSA Providers. HHSC has published an updated COVID-19 Frequently Asked Questions (PDF) document for HCSSA providers.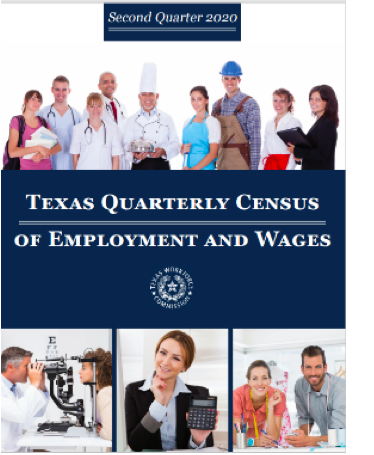 Quarterly Census Employment and Wages Second Quarter 2020 Publication is now available! This publication contains employment, payroll, and average weekly wage data by county for the specified quarter. These data were compiled from quarterly employment and wage reports submitted by employers subject to the Texas Unemployment Compensation Act (TUCA) and for civilian workers covered by the program of Unemployment Compensation for Federal Employees (UCFE). Quarterly average employment data have been tabulated by industry according to the North American Industry Classification System (NAICS) manual (see Industry Classification below) at the statewide and county levels. Payroll data represent the total wages paid by establishments during the quarter. Total wages are provided for each county and by industry for the state. Average weekly wage data are computed from employment and total wages reported by all establishments as well as just those establishments subject to the Texas Unemployment Compensation Act. Average weekly wage data are not to be confused with "prevailing" wage rates in various industries.
View the publication here.
Also, newly released QCEW industry data by senate, house, and congressional district is available from 2nd quarter 2020 back to 1st quarter 2013.  This data includes industry employment by number of firms, establishments, quarterly average employment, and total wages.  View new data product on TWC's Popular Downloads section of TexasLMI.com.
If you would like to request COVID-19 updates from previous reporting dates, please contact info@txinsight.com.