Texas Insight provides timely reporting of healthcare issues and events as they occur within the legislative and regulatory branches of Texas state government.

As we gear up for the 87th Legislative Session, we wanted to let you know about some of our new services: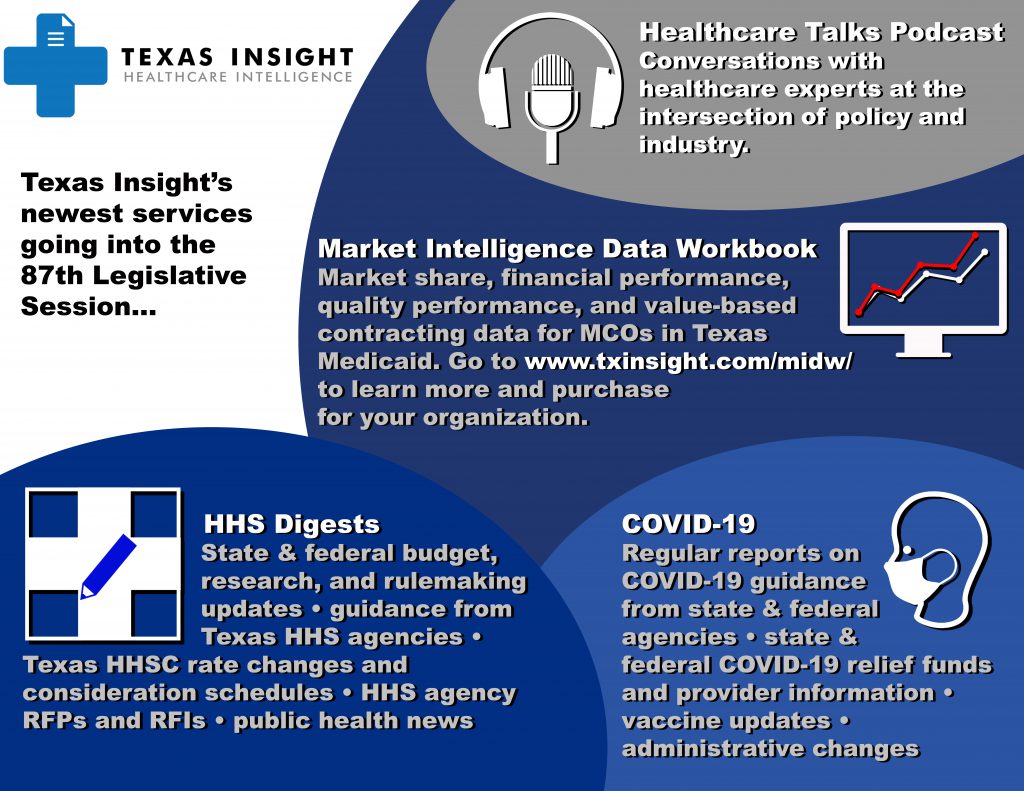 New FAQ for the Market Intelligence Data Workbook. This workbook assembles select public data to help Managed Care Organizations, Providers, Intermediaries, Investors, Policymakers, Legislators, and the public identify and visualize performance in Texas Medicaid and CHIP. With this tool, individuals or organizations can better understand Texas Medicaid Managed Care performance across different critical dimensions—market share, spending, quality, and efficiency. As HHSC moves toward emphasizing high quality, efficient healthcare in Medicaid/CHIP, this tool can be used to identify and compare areas of excellence and where there are opportunities for improvement.
Access Texas Insight's FAQ for answers to the following questions and more information:
Q: What are the searchable variables in the spreadsheet?
Q: How was it determined which measures and metrics should be included?
Q: Where does the data come from?
Q: Is there support for interpretation and/or context?
Q: How do I access the data?
Q: How much does it cost?
Q: How can I find out more?

January 6, 2021
January 8, 2021

Texas
U.S.

Access this document for state and federal COVID-19 updates from this week.